Blame it on the economy and the accompanying back to basics mentality. Or praise public awareness of green issues and the value of low-impact lifestyles. But all of a sudden bicycles are a Very Big Deal. Everyday people–folks who haven't been on a bicycle in years, if not decades–have suddenly rediscovered the thrill of cycling. For us, passionate cyclists who strive daily to deliver products that get people of all ages, abilities and aspirations to love bikes and biking just as much as we do, it doesn't get any better than that.
The bicycle is a marvelous invention, with an impact that is almost completely, one hundred percent positive. For individuals (exercise!) as well as for the environment (reduced carbon footprint). A bike is one of the world's most powerful instruments for change. We know because cycling forever changed our lives, and we've seen it change the lives of so many others. That's why we want to make cycling converts out of everyone, and that's why there's a Jamis for nearly every cycling arena, for almost any rider.
It's that passion for cycling and everything cycling can do that fuels and sustains our efforts to build the best possible bikes. It's why we build category-defining superbikes that put professionals atop podiums at road races and mountain bike events. It's why our computers are humming day and night crunching FEA data and carbon fiber lay-up simulations. It's why we devote precious R & D resources to making even our kids bikes and cruisers as light and easy to ride as possible.
But we're at this not just to build better bikes. We're in this to build better lives, to make YOU better. That's pretty heavy. It's a lot to carry on two wheels. But that's how powerful a bicycle can be. And that's why we're so committed to building the best bikes possible.
When people ride bikes, good things happen. Experience it yourself, on a Jamis.
The first Dakar is delivered. A custom-built, fillet-brazed (triple-butted Ishiwata tubing), ready-to-race-out-of-the-box mountain bike that turns a lot of heads. In many respects, the 1985 Dakar crystallizes much of the Jamis design credo that guides our work today – no gimmicks, no gadgets, no nonsense, no compromise; just pure, polished performance and genuine craftsmanship.
Dragon (off-road) and Eclipse (road) evolve and become two of the very first USA production bikes to feature Reynolds 853 air-hardened cromo tubing…. Our flagship dualie, Dakar Team, featuring the "new" XTR and a 200 gram Cane Creek AD8 air shock and 80mm rear wheel travel, weighs in at just over 24 pounds.
The revolutionary dual-suspended Diablo is introduced at Interbike and wows the crowd. The industry's first vacuum-resin-transferred-molded carbon fiber monocoque frame is nominated for a Bicycling Magazine Editor's Choice award as one of the most innovative products for 1998…. Dakota later wins Mountain Biking magazine's Bike of the Year Award.
The Dakar XLT 5" travel all-mountain series is introduced and promptly wins Mountain Biking magazine's Best All Mountain Bike AND their coveted OVERALL Bike of the Year award (while Dakar XC Comp quietly wins the Aggressive XC Bike of the Year award)….. Xenith is the first production road bike to be manufactured with Reynold's incredibly light-and-stiff-but-still-resilient lithium alloy X100 tubing.
The Dakar XLT platform continues to wow the crowd and the 2.0 nearly grabs All Mountain Bike of the Year from 26 Magazine (which would have been the second year in a row for the XLT's), ultimately taking the runner-up award. Coda Sport is introduced and is promptly selected by Bicycling Magazine as THE Best Buy for a Comfort Road Bike.
It's the year of carbon-fiber for the entire industry and Jamis is at the top of the heap with new full carbon Xenith Series (Team and Pro) road bikes. The Dakar XC Pro & XC Expert feature lightweight carbon seatstays and bell-cranks, while the 853 Eclipse is exquisitely outfitted with laser sculpted steel lugs that accept carbon-fiber seatstays, seat and down tubes. Dakar XLT and Quest win Bicycling Magazine's coveted Editor's Choice awards for Best Value Full-Suspension Mountain Bike and Best Value Enthusiast Road Bike.
Jamis introduces the all new Diablo 7×7 freeride bikes designed to pedal as well as it gobbled up terrain…not to mention geometry that made the bike tops in handling and balance. The Jamis Dakar wins Bicycling Magazine's Editor's Choice Award as the Best Full Suspension Mountain Bike under $1000.
The all new re-designed carbon fiber Xenith Series is introduced to stunned audiences. Years of refining the ride of our original frame cumulates into quite possibly the perfect balance between comfort, stiffness and light weight…many pro racers calling it the best riding road bike they've ever ridden. Also introduced this year is an all new MP3 suspension platform. The evolution of Jamis suspension that's gotten lighter, stiffer, truer tracking and more efficient.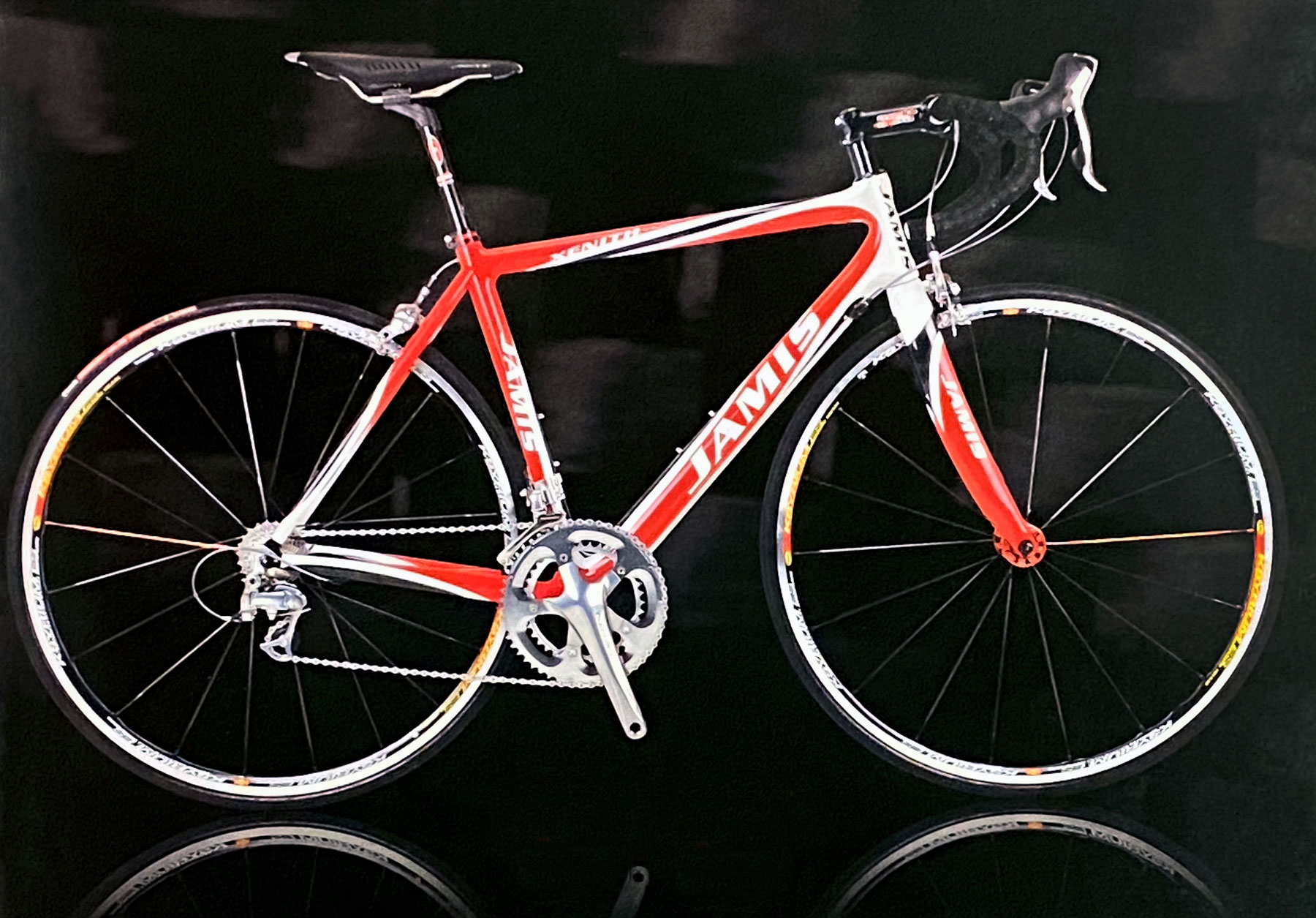 The Xenith T-Series debuts with its patent pending Windshield® fork which helps these revolutionary bikes shatter many of the existing top wind tunnel test scores. Our Xenith Pro carbon road bike wins Bicycling Magazine's Editor's Choice Award for Best Enthusiast Road Bike. Jamis introduces its first carbon fiber full suspension bike with the Dakar XCR Team. The XCR Team uses much of the carbon technology developed for the groundbreaking Xenith road line up including Jamis' SST (size specific tubing) technology.
2009 marks our 30th anniversary and with it brings overhauls to almost every one of our mountain and road bikes. Jamis brings it's MP3 suspension platform to a new crop of 5-inch trail bikes called XCT. Developed over the course of 2 years it easily becomes one of the most talked about additions to the Jamis line-up. On the road side we resurrect the Reynolds 853 steel Eclipse for our 30th anniversary and refine the ride of each and every road bike in the line.
This is the year we roll out our revolutionary Dakar 650B1 and B2 trail bikes, four years ahead of the rest of the industry. "It's remarkable the way the Dakar 650B straddles the riding experience of 26 and 29," said Mountain Bike. What's even more remarkable to us is how long it took everyone else to wake up and jump on board. 2010 also marks the 6th year in a row, Jamis earns a coveted Editor's Choice Award from Bicycling Magazine: Xenith Comp edges out BH and Cervelo for Best Recreational Road Bike.
Our Hudson series comfort bikes debut this year, combining the best of what we know about design with the latest in what casual cyclists want. The result: a revolutionary new riding position with gorgeously clean styling. Bosanova also debuts: a steel-framed, disc-braked & fender-equipped drop-bar road bike designed for our Pac-NW customers who were begging us for a "rain bike". And not to gloat, but Bicycling bestows another Editor's Choice award on a Jamis bike: Coda Sports earns Best Flat Bar Road Bike.
Continuing to lead the 650B revolution, 2012 sees the roll-out of our venerable Dragon with 650B wheels as well as an all-out/all-alloy 650B racing hardtail, the Nemesis.  But there's still room in the world for a well-designed 90mm travel full carbon 29" dualie: meet the new-for-2012 Dakar XCR 29 Team & Pro. Always the early adopter, we test and fall in love with Nuvinci's seamlessly shifting, continuously variable rear hub and add it to the spec of the Commuter 4.
2013 marks the 25th birthday for our Eclipse — a long-time favorite of steel roadie fans. The all-new aluminum Icon Elite nabs an Editor's Choice award from Bicycling magazine for Best Recreational Road Bike. Not to be outdone, the Dragon 29 Sport also pulls away withan Ed Choice for best Value Hardtail. And Tyler Wren starts off the whole 2013 model year with his second consecutive win at Crusher in the Tushar on board a fresh-out-of-the mold, all carbon for the first time ever Supernova 'cross bike.
Re-designed. Re-Engineered. Re-Ignited. 2014 brings a completely redesigned Xenith carbon road bike lineup proven by the Jamis – Hagens Berman race team. On the mountain bike side of the house, comes the all new 150mm travel Dakar AMT. Based on our proven XCT trail bike, but bulked up for bigger hits at higher speeds. Bicycling Magazine awards Jamis two Editor's Choice Awards. One for Best Woman's Flat Bar Road bike (Allegro Elite) and the speedy Icon Elite aluminum crit bike wins Best Recreational Road Bike.
The year of the Renegade®. Jamis introduces one of the first dedicated carbon fiber gravel/adventure bikes and the world of road bikes hasn't been the same since. With disc brakes and the ability to mount a full-bodied 40c tire, this bike is ready for beat-up streets, back roads, dirt paths you name it. A look at the future of what versatility means for a drop-bar road bike.
2016 brings the release of the all new Defcon® Series of enduro mountain bikes. The devil is in the details. This is where the 27.5" wheel size really shines: on a 160mm travel all-mountain enduro machine. The Renegade Series expands to steel and aluminum models making the already industry-leading category complete. These bikes are designed to provide the same versatility as the top-end carbon models.
Jamis introduces the all new 27.5 and 26 Dragonslayer and Komodo PLUS bikes. One of the first in the bike world to come to market with both steel and aluminum bikes specifically designed around a 3″ tire, the Dragonslayer and Komodo PLUS bikes get rave reviews from both bike publications and everyday mountain bikers. The Xenith road racing lineup goes all in on the disc brake revolution. Renegade Elite is named a "Best Road Bike of 2017" by Outside Magazine.
The all new TT/Tri bike T2X is launched after painstaking testing at the San Diego Low Speed Wind Tunnel. The bike is raced to multiple TT wins with the Jamis sponsored Silber Pro Racing team. The all new Dakar A1 and A2 are launched bringing an all new frame design to the proven MP2 suspension system at an incredible price. Bicycling Magazine awards the Renegade Elite an Editor's Choice Award in the Best of the Best Road Bikes category.
Jamis introduces the world to the first production mountain bikes designed around Chris Currie of Speedgoat Design's revolutionary 3VO suspension platform. This is how every suspension bike should ride. The Sequel is also launched in 2019. An all new Urban/Adventure bike that brings much of the versatility of the Renegade Series to a flat bar steel bike with 47c tires and the ability to tackle city streets or make an escape on gravel trails.