Manufacturer's Suggested Retail Price excludes shipping costs, dealer assembly/prep, taxes or import duties.

Jamis Renegade Adventure Gravel Bike Lets You Go Rogue From the Roads...
The Jamis Renegade was developed with racing in mind, replacing Tyler Wren's cyclocross bike as his rig of choice for the Crusher in the Tushars gravel road race. Fortunately for the rest of us, the engineers and product managers kept some non-race features that make it far more versatile....

Brilliant do-it-all bike. Light, tough, very well-specced and grin-inducing...
With an intoxicating combination of road lightness and trail toughness plus Shimano's stunning hydraulic disc brakes and a great wheel and tyre package, the Renegade offers excellent (if relaxed) road manners and...It'll go further and harder off-road than any other road bike I've ridden, in fact, with a depth of off-road ability that is simply astonishing.

Ready, set, go (anywhere)...
At the end of my time on the Renegade, I mused on how well the bike had served me on smooth roads and battered ones, down alleys and rail beds, for adventuring and errand running, and even for a little cyclocross. In other words, I thought, it was just what I want out of a "bike."

Since 2014, the Jamis Renegade Series has been defining versatility in modern adventure bikes. The key is a finely tuned frame and fork design that maximizes handling and comfort whether you're road riding with 28mm tires, adding a rack and fenders for commuting on 32's or exploring the backcountry wilderness fully loaded up on 37mm rubber.
(Our steel and aluminum Renegades will accommodate up to a  700c x 50mm/650b x 2.00".)
Read on to understand Jamis' approach to adventure frame design and how it keeps the Renegade's superior ride quality consistent regardless of tire choice and frame size, on-road or off.
Purchase online now and pickup at your local bike shop!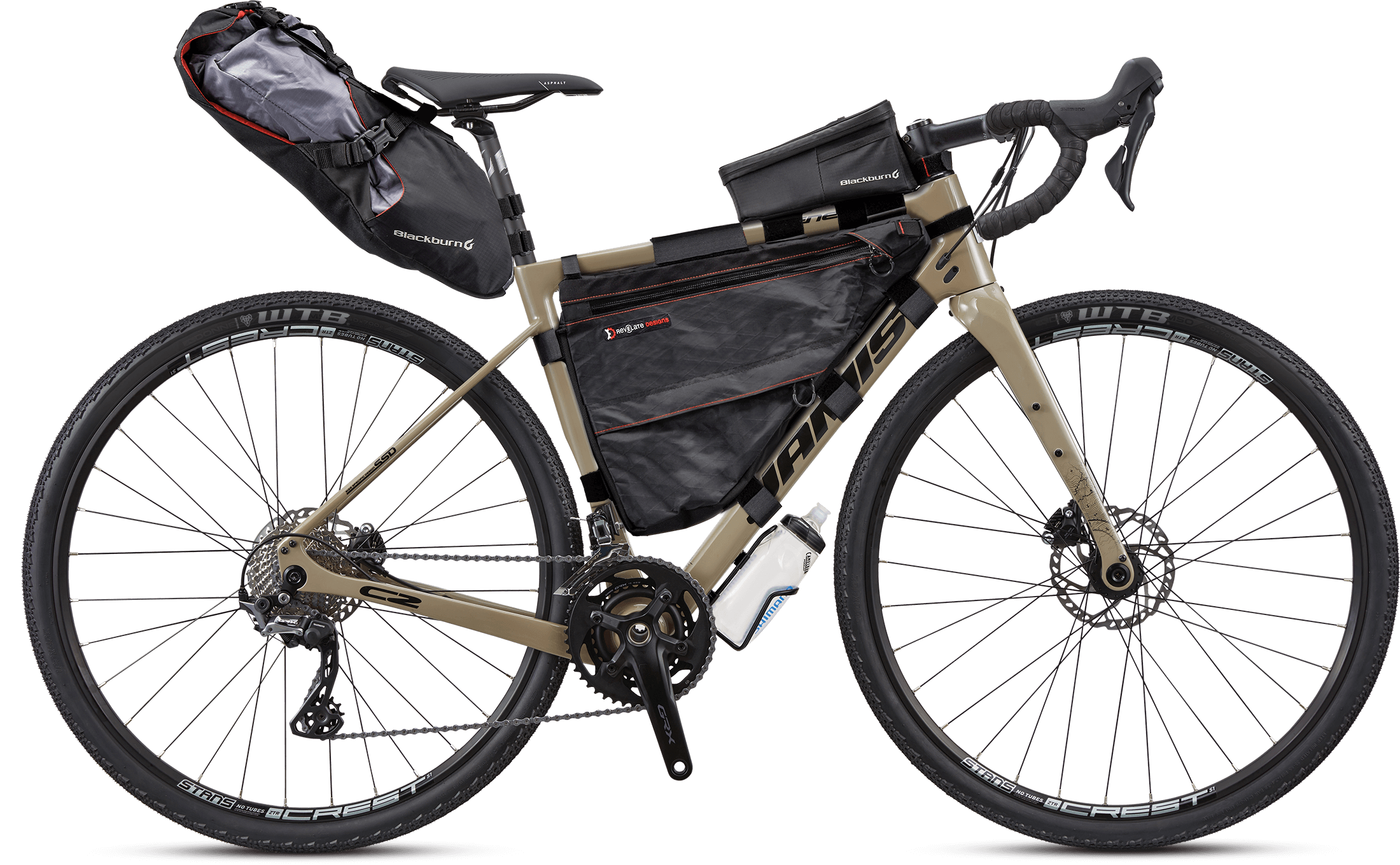 Renegade enables you to be a commuter in the morning, leader of the after-work group ride and take off for a 300-mile bikepacking expedition over the weekend. All with a single bicycle. With over 20 fork and frame mounts you can now choose to mount fenders, rear carrier, low-rider front carrier (or two cages for water bottles/storage) and three front triangle water bottles. Add clearance for 700 x 50mm and 650 x 2.00"* on our steel and aluminum models, and it's clear the Renegade series is equipped to accommodate any adventure.
*Renegade carbon models are designed to accommodate up to a 700c x 37mm tire without fenders or 35mm with fenders.
*Steel and aluminum Renegade models are designed to accommodate up to 700c x 50mm tires without fenders and 35mm with fenders.
Purchase online now and pickup at your local bike shop!
Starting with a wide and consistent stack and reach range, we set out to design a frame that could handle on or off road conditions while maintaining a comfortable and consistent ride. As you start to review the geo chart you will notice we have 3 different fork offsets, BB drops and rear center measurements depending on frame size. This is unique.
We set out to ensure every Renegade rider will experience the ultimate in adventure bike performance regardless of their frame size. Most of our competitors simply design one fork and strap it to every frame size. While this may work just fine for a bicycle that's designed to be ridden with a single tire size (think a road racing bike), it significantly impacts the handling and ride quality of an adventure bike when swapping out your 28's for 32s, 40s or even 47mm tires.
Add size specific tubing, where we vary the diameter of the frame tubing depending on frame size and 2 different sized rear triangles and you have what we feel is the perfect adventure geometry for all sized riders and the best riding adventure bike period.
Enhanced Compliance Offset (ECO) fork blades are swept forward several millimeters to provide extra vertical compliance for a more comfortable and controlled ride without any compromise in lateral stiffness. This is possible in part due to the ECO's reinforcing rib on the inside of the fork legs. The integration of a 12mm thru-axle into our fork maintains all of the characteristics of our ECO design while adding the thru-axle benefits of increased front-end stiffness and further reduced weight.
Purchase online now and pickup at your local bike shop!
Purchase online now and pickup at your local bike shop!
The Renegade is ready for any adventure, no matter which Renegade you ride. The long and tall endurance geometry is designed specifically to ride comfortably all day on the road or in harsh conditions off-road. The smooth ride of the full carbon fiber Renegades set the bar for how we designed the steel and aluminum bikes. With disc brakes and the ability to mount up to a 47c tire, these bikes are ready to go just about anywhere. All you need is the desire to push, pedal and explore. With a full range of sizes from 44 with 650 wheels to 61cm there's always a Renegade designed just for you.
Purchase online now and pickup at your local bike shop!
Specifications are subject to change without notice. All bike and frame weights are based off pre-production painted frames. Weights may vary in final production.
| RENEGADE | C1 | C2 | S2 | S3 | S4 | A1 |
| --- | --- | --- | --- | --- | --- | --- |
| Frame | Jamis Size Specific Design Omniad M30 monocoque carbon fiber frame, Near Net molding process, 12×142 thru-axle with Jamis MTS (Modular Thru-axle System), SST tubing diameters, integrated seat post clamp, 1.5 – 1 1/8" head tube, EVO386 carbon BB shell, ACE internal cable routing compatible for both Di2 wires or traditional cables and internal dropper post, oversized asymmetrical chainstays with flat mount disc brakes and exposed carrier/fender mount eyelets, carbon drop outs, replaceable FD mount and RD hanger, clearance for 37c tires | Jamis Size Specific Design Dyad Plus T700/FRP monocoque carbon fiber frame, Near Net molding process, 12×142 thru-axle with Jamis MTS (Modular Thru-axle System), SST tubing diameters, integrated seat post clamp, 1.5 – 1 1/8" head tube, EVO386 carbon BB shell, ACE internal cable routing compatible for both Di2 wires or traditional cables and internal dropper post, oversized asymmetrical chainstays with flat mount disc brakes and exposed carrier/fender eyelets, carbon drop outs, replaceable FD mount and RD hanger, clearance for 37c tires | UPDATED Jamis Size Specific Design frame geometry, Reynolds 631 double-butted chromoly main tubes, tapered head tube for tapered fork, oval seat stays, Di2 compatible, threaded T47 BB shell, 12×142 Jamis MTS (Modular Thru- axle System), flat mount disc brake mounts, down tube mounted full cable housing, internal dropper post ready, 3 waterbottle mounts, TT mounts, rack and fender eyelets. | UPDATED Jamis Size Specific Design frame geometry, SST Reynolds 520 double-butted chromoly main tubes, tapered head tube for tapered fork, threaded BB shell, 12mm Thru- axle, flat mount chain stay disc brake mounts, down tube mounted full cable housing, internal dropper post ready, 3 waterbottle mounts, TT mounts, rack and fender eyelets. | UPDATED Jamis Size Specific Design frame geometry, SST Reynolds 520 double-butted chromoly main tubes, tapered head tube for tapered fork, threaded BB shell, 12mm Thru- axle, flat mount chain stay disc brake mounts, down tube mounted full cable housing, internal dropper post ready, 3 waterbottle mounts, TT mounts, rack and fender eyelets. | UPDATED Jamis Size Specific Design frame geometry, 6061 aluminum double-butted main frame, 1.5 – 1 1/8" tapered head tube, 31.8mm seat tube for 27.2 seat post, Flat Mount disc brake mounts, internal cable routing, replaceable derailleur hanger, 3 waterbottle mounts, TT mounts, rack and fender eyelets. |
| Fork | Jamis Adventure ECO monocoque carbon, 12mm Jamis MTS (Modular Thru-axle System) with stainless interface and carbon dropouts, tapered steerer with 1.5" hollow formed crown, flat mount disc brakes with internal cable routing, exposed fender, lowrider and water bottle eyelets | Jamis Adventure ECO monocoque carbon composite, 12mm Jamis MTS (Modular Thru-axle System) with stainless interface and carbon dropouts, tapered steerer with 1.5" hollow formed crown, flat mount disc brakes with internal cable routing, exposed fender, lowrider and water bottle eyelets | UPDATED Jamis Adventure ECO monocoque carbon composite, 12mm Jamis MTS (Modular Thru-axle System) with stainless interface and carbon dropouts, tapered steerer with 1.5" hollow formed crown, flat mount disc brakes with internal cable routing, exposed fender, lowrider and 3 water bottle eyelets | UPDATED Jamis Adventure ECO monocoque carbon composite, 12mm Jamis MTS (Modular Thru-axle System) with stainless interface and carbon dropouts, tapered steerer with 1.5" hollow formed crown, flat mount disc brakes with internal cable routing, exposed fender, lowrider and 3 water bottle eyelets | UPDATED Jamis Adventure ECO monocoque carbon composite, 12mm Jamis MTS (Modular Thru-axle System) with stainless interface and carbon dropouts, tapered steerer with 1.5" hollow formed crown, flat mount disc brakes with internal cable routing, exposed fender, lowrider and 3 water bottle eyelets | UPDATED Jamis Adventure 6061 aluminum, tapered aluminum steerer, integrated cable cradles with Flat Mount disc brake mounts, exposed fender, lowrider and 3 water bottle eyelets |
| Headset | Ritchey Pro Drop-In, sealed bearing with nylon upper compression ring, 1.5 – 1 1/8" | Ritchey Pro Drop-In, sealed bearing with nylon upper compression ring, 1.5 – 1 1/8" | FSA IS2 sealed bearing Internal with 15.3mm top cone, 1.5 – 1 1/8" | FSA OrbitC-40B Internal, 1.5 – 1 1/8" | FSA OrbitC-40B Internal, 1.5 – 1 1/8" | FSA Orbit C-40B Internal/External, 1.5 – 1 1/8" |
| Wheels | Boyd CCC Tubeless 11-speed wheelset, 28/32H, 25mm rim height with 25mm ID width, Boyd Quest Centerlock hubs with sealed bearings, Pillar Aero spokes, front 12mm/rear 12×142 thru-axle with Switch Lever | Boyd GVL Tubeless 11-speed wheelset, Boyd 6-bolt hubs with sealed bearings, 14g black stainless steel spokes with front 12mm/rear 12×142 thru-axle with Switch Lever | Boyd GVL Tubeless 11-speed wheelset, Boyd 6-bolt hubs with sealed bearings, 14g black stainless steel spokes with front 12mm/rear 12×142 thru- axle with Switch Lever | WTB ST i23 TCS 2.0 (UST Tubeless Compliant System) disc rims, 32H, Joytec alloy 6-bolt hubs, 14g stainless steel spokes and front 12mm/rear 12×142 thru-axle with Switch Lever | WTB STX i23 TCS 2.0 (UST Tubeless Compliant System) disc rims, 32H, Joytec alloy 6-bolt hubs, 14g stainless steel spokes and front 12mm/rear 12×142 thru-axle with Switch Lever | WTB STX i23 TCS (UST Tubeless Compliant System) disc rims, 32H, Joytec alloy 6-bolt hubs and 14g stainless steel spokes |
| Tires | WTB Riddler Tubeless, 700 x 37c, Dual DNA Compound, Lightweight Tubeless Casing, TCS Aramid Bead | WTB Riddler Tubeless, 700 x 37c, Dual DNA Compound, Lightweight Tubeless Casing, TCS Aramid Bead | WTB Raddler 700Cx40C, Distance+ Compound, Supple Tubeless Casing, TCS Aramid Bead (48-61) WTB VENTURE 650Bx40C, Black Sidewall, Dual DNA Compound, Lightweight Tubeless Casing, TCS Aramid Bead (44) | WTB Riddler Comp 700CX37C, 30tpi Casing, Wire Bead (48-61) WTB BYWAY 650CX40C, 30tpi Casing, Wire Bead (44) | WTB Riddler Comp 700CX37C, 30tpi Casing, Wire Bead (48-61) WTB BYWAY 650CX40C, 30tpi Casing, Wire Bead (44) | WTB Riddler Comp 700CX37C, 30tpi Casing, Wire Bead (48-61) WTB BYWAY 650CX40C, 30tpi Casing, Wire Bead (44) |
| Derailleurs | Shimano GRX RX-R810 Shadow Plus rear and GRX FD-RX810 braze-on front | Shimano GRX RD-RX810 Shadow Plus rear and GRX FD-RX810 braze-on front | Shimano GRX RD-RX812 Shadow Plus | Shimano GRX RD-RX400 Shadow Plus rear and GRX FD- RX400 front with 28.6mm alloy clamp | Shimano Sora RD-R3000 GS rear and Sora FD-R3000 front with 31.8mm alloy clamp | Shimano Claris RD-R2000 GS rear and Claris FD-R2000 front with 31.8mm alloy clamp |
| Shift levers | Shimano GRX ST-RX810 Dual Control STI, 22-speed | Shimano GRX ST-RX600 Dual Control STI, 22-speed. | Shimano GRX ST-RX600 Dual Control STI, 11-speed. | Shimano GRX ST-RX400 Dual Control STI, 10-speed | Shimano Sora ST-R3000 Dual Control STI, 18-speed | Shimano Claris ST-R2000 Dual Control STI, 16-speed |
| Chain | KMC x11 EPT Anti-Rust | KMC x11 EPT Anti-Rust | KMC x11 EPT Anti-Rust | KMC 10-speed X10 | KMC Z9 | KMC Z8 |
| Cassette | Shimano 11-speed, 11-34T | Shimano 105 11-speed, 11-34T | Shimano 11-speed, 11-42T | Shimano 10-speed, 11-36T | Shimano HG400 9-speed, 11-34T | Shimano HG41 8-speed, 11-34T |
| Crankset | Shimano GRX FC-RX810 48/31T, 170mm (48/51), 172.5mm (54/56), 175mm (58/61) | Shimano GRX FC-RX600 46/30T or PRAXIS ALBA-GR 48/32T 165mm(48), 170mm(51), 172.5mm(54/56), 175mm(61). | Shimano GRX FC-RX600 40T or PRAXIS ALBA-GR 40T 165mm(48), 170mm(51), 172.5mm(54/56), 175mm(61). | FSA OMEGA Modular DM MegaExo, 46/30T, 165mm (44/48), 170mm (51) 172.5mm (54/56) 175mm (58/61) | FSA Vero, 50/34T, 165mm (44/48), 170mm (51) 172.5mm (54/56) 175mm (58/61) | FSA Vero, 50/34T, 165mm (44/48), 170mm (51) 172.5mm (54/56) 175mm (58/61) |
| BB Set | Enduro EVO PressFit 30 with Wheels MFG EVO adaptors | Enduro EVO PressFit 30 with Wheels MFG EVO adaptors or Praxis M30 368EVO PressFit | FSA T47 or Praxis M30 T47 68 (External) | FSA BB-4000 MegaExo | FSA sealed cartridge, 68 x 110.5mm | FSA sealed cartridge, 68 x 110.5mm |
| Pedals | N/A | N/A | N/A | N/A | N/A | N/A |
| Brakeset | Shimano GRX BR-RX810 hydraulic disc brakes with resin pads and Fin, Centerlock Ice Tech Freeza RT800 160mm rotors with GRX ST-RX810 Dual Control STI levers | Shimano GRX BR-RX400 flat mount hydraulic disc brakes with resin pads and Fin, Shimano 160mm rotors with GRX ST-RX600 Dual Control STI levers | Shimano GRX BR-RX400 flat mount hydraulic disc brakes with resin pads, Shimano 160mm rotors with GRX ST- RX600 Dual Control STI levers | Shimano GRX BR-RX400 flat mount hydraulic disc brakes with resin pads, Shimano 160mm rotors with GRX ST- RX400 Dual Control STI levers | Tektro Lyra mechanical cable actuated disc flat mount brake with 160mm wave rotors and Shimano Sora ST-R3000 levers | Tektro C310 Flat Mount mechanical cable actuated disc brake with 160mm wave rotors and Shimano Claris ST- R2000 levers |
| Handlebar | Ritchey Ergomax Comp, 6061 aluminum, 73 reach, 128 ergonomic drop with 12ç flare, 31.8 x 420 (48-51) 440mm (54-56), 460mm (56-61) | Ritchey Baquiano Comp, 6061 aluminum, 73 reach, 118 ergonomic drop with 12ç flare, 31.8 x 420 (48-51) 440mm (54-56), 460mm (56-61) | Ritchey Baquiano Comp, 6061 aluminum, 73 reach, 118 ergonomic drop with 12ç flare, 31.8 x 400 (44) 420 (48-51) 440mm (54-56), 460mm (56-61) | Ritchey Baquiano Comp, 6061 aluminum, 73 reach, 118 ergonomic drop with 12ç flare, 31.8 x 400 (44) 420 (48-51) 440mm (54-56), 460mm (56-61) | Ritchey Baquiano Comp, 6061 aluminum, 73 reach, 118 ergonomic drop with 12ç flare, 31.8 x 400 (44) 420 (48-51) 440mm (54-56), 460mm (56-61) | Ritchey Baquiano Comp, 6061 aluminum, 73 reach, 118 ergonomic drop with 12ç flare, 31.8 x 400 (44) 420 (48-51) 440mm (54-56), 460mm (56-61) |
| Stem | Redshift suspension stem with elastomers, 6 ̊ x 80mm (48/51/54/56), 100mm (58/61) | Redshift suspension stem with elastomers, 6 ̊ x 80mm (48/51/54/56), 100mm (58/61) | Redshift suspension stem with elastomers, 6 ̊ x 80mm (48/51/54/56), 100mm (58/61) | Ritchey 4-Axis 3D forged 6061 alloy, 6 ̊ x 60mm (44), 70mm (48/51), 80mm (54/56), 100mm (58/61) | Ritchey 4-Axis 3D forged 6061 alloy, 6 ̊ x 70mm (44), 80mm (48/51), 90mm (54/56), 110mm (58/61) | Jamis Road 3D forged 6061 alloy, 7 ̊ x 70mm (44), 80mm (48/51), 90mm (54/56), 110mm (58/61) |
| Grips | Velo EVA gel with gel inserts | Velo EVA gel with gel inserts | Velo EVA gel with gel inserts | Jamis suede tape with gel inserts | Jamis suede tape with gel inserts | Jamis suede tape with gel inserts |
| Seat Post | Ritchey Comp Carbon, 27.2 x 350mm, 25mm offset with Jamis 7075-AL CNC aluminum 1-bolt seat post clamp | Jamis carbon fiber micro-adjust, 27.2 x 300mm with Jamis 7075- AL CNC aluminum 1-bolt seat post clamp | Jamis carbon fiber micro-adjust, 27.2 x 330mm with cromo seat pin | Ritchey Road, 27.2 x 300mm with cromo seat pin | Jamis Road, micro-adjust, 27.2 x 350mm cromo seat pin | Jamis Road, micro-adjust, 27.2 x 350mm cromo seat pin |
| Saddle | Fizik Aliante Delta with intergrated clip system and manganese rails | Selle Royal Asphalt with integrated clip system | Selle Royal Asphalt with integrated clip system | Selle Royal Asphalt with integrated clip system | NEW Jamis Sport with SL top | NEW Jamis Sport with SL top |
| Sizes | 48, 51, 54, 56, 58, 61cm | 48, 51, 54, 56, 58, 61cm | 44cm x 650 and 48, 51, 54, 56, 58, 61cm 700c | 44cm x 650 and 48, 51, 54, 56, 58, 61cm 700c | 44cm x 650 and 48, 51, 54, 56, 58, 61cm 700c | 44cm x 650 and 48, 51, 54, 56, 58, 61cm 700c |
| Color | Spyder Green | Thunder Grey | Root Beer | Monterey Grey | Riptide | Black Pearl |
| Weight | 19.0 lbs | 21.0 lbs. | 23.5 lbs | 24.25 lbs | 24.75 lbs | 24.0 lbs |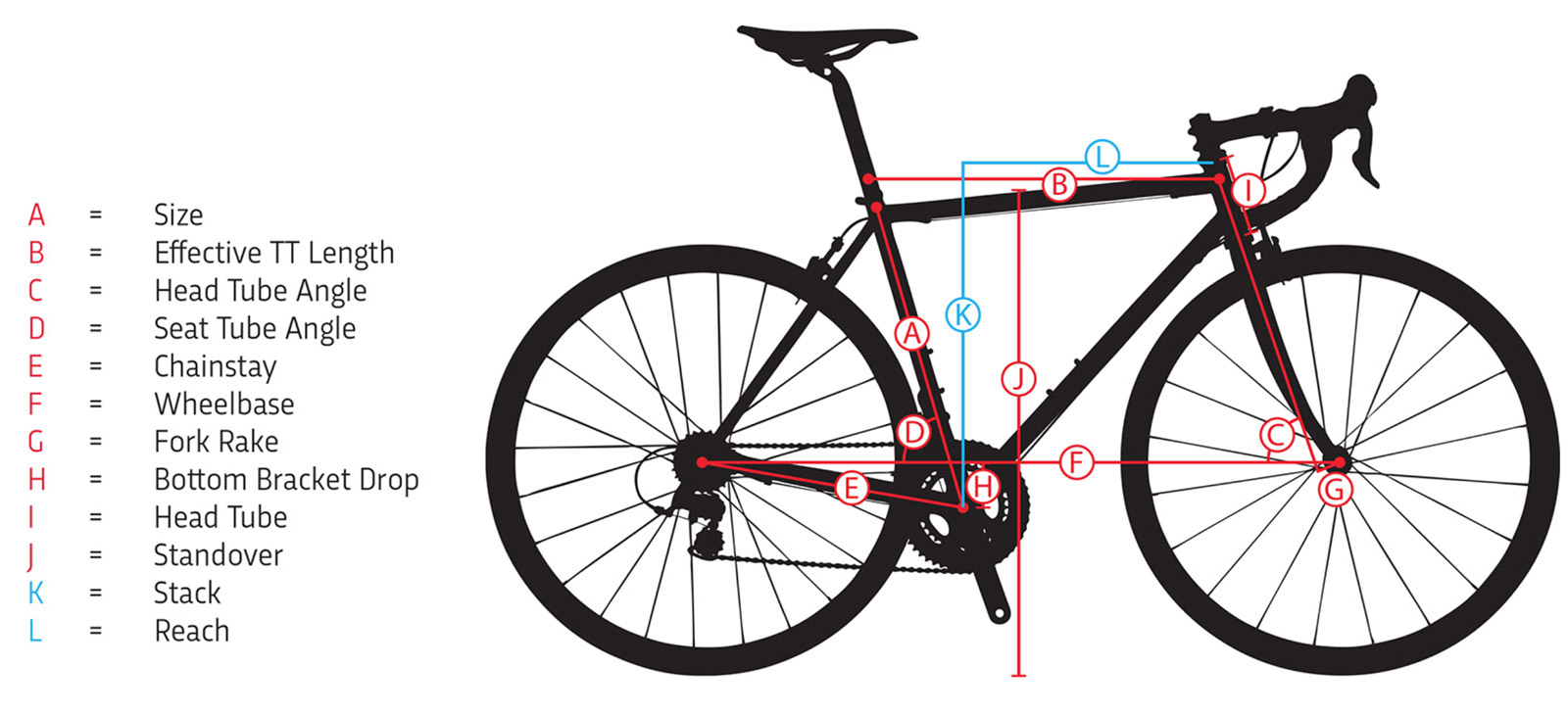 | MODEL | SIZE | TT EFFECTIVE | HT ANGLE | ST ANGLE | CHAINSTAY | WHEELBASE | FORK RAKE | BB DROP | HEADTUBE | STANDOVER | STACK | REACH |
| --- | --- | --- | --- | --- | --- | --- | --- | --- | --- | --- | --- | --- |
| C1, C2 | 48 | 20.35 / 517 | 70.5° | 73° | 16.81 / 427 | 39.27 / 997 | 2.24 /57 | 2.89 / 73.5 | 3.77 / 96 | 28.7 / 729 | 20.27 / 515 | 14.17 / 360 |
| C1, C2 | 51 | 20.94 / 532 | 71° | 73° | 16.81 / 427 | 39.55 / 1005 | 2.09 / 53 | 2.89 / 73.5 | 4.5 / 114 | 29.61 / 752 | 20.98 / 535 | 14.53 / 369 |
| C1, C2 | 54 | 21.69 / 551 | 71.5° | 73° | 16.93 / 430 | 40.27 / 1023 | 2.09 / 53 | 2.83 / 72 | 5.73 / 146 | 30.9 / 785 | 22.24 / 565 | 14.88 / 378 |
| C1, C2 | 56 | 22.4 / 569 | 71.5° | 73° | 16.93 / 430 | 41.00 / 1042 | 2.09 / 53 | 2.83 / 72 | 6.96 / 177 | 31.81 / 808 | 23.42 / 595 | 15.24 / 387 |
| C1, C2 | 58 | 23.07 / 586 | 72° | 73° | 16.93 / 430 | 41.39 / 1051 | 1.97 / 50 | 2.77 / 70.5 | 7.95 / 202 | 32.68 / 830 | 24.41 / 620 | 15.59 / 396 |
| C1, C2 | 61 | 23.66 / 601 | 72.5° | 73° | 17.2 / 435 | 41.98 / 1066 | 1.97 / 50 | 2.77 / 70.5 | 8.7 / 221 | 22.95 / 853 | 25.20 / 640 | 15.94 / 405 |
| S2 | 48 | 20.51 / 521 | 71° | 73° | 16.69 / 424 | 39.17 / 995 | 1.97 / 50 | 2.14 / 54.5 | 5.59 / 142 | 28.82 / 732 | 20.67 / 525 | 14.17 / 360 |
| S2 | 51 | 21.1 / 536 | 71° | 73° | 16.81 / 427 | 39.69 / 1008 | 2.09 / 53 | 2.89 / 73.5 | 4.88 / 124 | 29.88 / 759 | 21.46 / 545 | 14.53 / 369 |
| S2 | 54 | 21.81 / 554 | 71.5° | 73° | 16.93 / 430 | 40.39 / 1026 | 2.09 / 53 | 2.83 /72 | 6.1 / 155 | 31.1 / 790 | 22.64 / 575 | 14.88 / 378 |
| S2 | 56 | 22.52 / 572 | 71.5° | 73° | 16.93 / 430 | 41.14 / 1045 | 2.09 / 53 | 2.83 /72 | 7.36 / 187 | 31.93 / 811 | 23.82 / 605 | 15.24 / 387 |
| S2 | 58 | 23.19 / 589 | 72° | 73° | 16.93 / 430 | 41.54 / 1055 | 1.97 / 50 | 2.77 / 70.5 | 8.31 / 211 | 32.87 / 835 | 24.8 / 630 | 15.59 / 396 |
| S2 | 61 | 23.78 / 604 | 72.5° | 73° | 17.2 / 435 | 41.89 / 1064 | 1.97 / 50 | 2.77 / 70.5 | 9.06 / 230 | 33.7 / 856 | 25.59 / 650 | 15.94 / 405 |
| S3 | 48 | 20.51 / 521 | 71° | 73° | 16.69 / 424 | 39.25 / 997 | 2.09 / 53 | 2.89 / 73.5 | 3.31 / 84 | 28.66 / 728 | 20.67 / 525 | 14.17 / 360 |
| S3 | 51 | 21.10 / 536 | 71° | 73° | 16.81 / 427 | 40.20 / 1021 | 2.09 / 53 | 2.89 / 73.5 | 4.29 / 109 | 29.45 / 748 | 21.46 / 545 | 14.53 / 369 |
| S3 | 54 | 21.81 / 554 | 71.5° | 73° | 16.93 / 430 | 40.55 / 1030 | 2.09 / 53 | 2.83 / 72 | 5.35 / 136 | 30.67 / 779 | 22.64 / 575 | 14.88 / 378 |
| S3 | 56 | 22.52 / 572 | 71.5° | 73° | 16.93 / 430 | 41.14 / 1045 | 2.09 / 53 | 2.83 / 72 | 6.54 / 166 | 31.65 / 804 | 23.82 / 605 | 15.24 / 387 |
| S3 | 58 | 23.19 / 589 | 72° | 73° | 16.93 / 430 | 41.50 / 1054 | 1.97 / 50 | 2.77 / 70.5 | 7.52 / 191 | 32.60 / 828 | 24.80 / 630 | 15.59 / 396 |
| S3 | 61 | 23.78 / 604 | 72.5° | 73° | 17.20 / 435 | 42.09 / 1069 | 1.97 / 50 | 2.77 / 70.5 | 8.27 / 210 | 33.43 / 849 | 25.59 / 650 | 15.94 / 405 |
| S4 | 48 | 20.51 / 521 | 71° | 73° | 16.69 / 424 | 39.25 / 997 | 2.09 / 53 | 2.89 / 73.5 | 3.31 / 84 | 28.66 / 728 | 20.67 / 525 | 14.17 / 360 |
| S4 | 51 | 21.10 / 536 | 71° | 73° | 16.81 / 427 | 40.20 / 1021 | 2.09 / 53 | 2.89 / 73.5 | 4.29 / 109 | 29.45 / 748 | 21.46 / 545 | 14.53 / 369 |
| S4 | 54 | 21.81 / 554 | 71.5° | 73° | 16.93 / 430 | 40.55 / 1030 | 2.09 / 53 | 2.83 / 72 | 5.35 / 136 | 30.67 / 779 | 22.64 / 575 | 14.88 / 378 |
| S4 | 56 | 22.52 / 572 | 71.5° | 73° | 16.93 / 430 | 41.14 / 1045 | 2.09 / 53 | 2.83 / 72 | 6.54 / 166 | 31.65 / 804 | 23.82 / 605 | 15.24 / 387 |
| S4 | 58 | 23.19 / 589 | 72° | 73° | 16.93 / 430 | 41.50 / 1054 | 1.97 / 50 | 2.77 / 70.5 | 7.52 / 191 | 32.60 / 828 | 24.80 / 630 | 15.59 / 396 |
| S4 | 61 | 23.78 / 604 | 72.5° | 73° | 17.20 / 435 | 42.09 / 1069 | 1.97 / 50 | 2.77 / 70.5 | 8.27 / 210 | 33.43 / 849 | 25.59 / 650 | 15.94 / 405 |
| A1 | 48 | 20.55 / 522 | 71° | 73° | 16.93 / 430 | 39.37 / 1000 | 2.09 / 53 | 2.89 / 73.5 | 3.15 / 80 | 28.66 / 728 | 20.75 / 527 | 14.17 / 360 |
| A1 | 51 | 21.14 / 537 | 71° | 73° | 16.93 / 430 | 39.84 / 1012 | 2.09 / 53 | 2.89 / 73.5 | 3.78 / 96 | 29.02 / 737 | 21.42 / 544 | 14.57 / 370 |
| A1 | 54 | 21.89 / 556 | 71° | 73° | 16.93 / 430 | 40.43 / 1027 | 2.09 / 53 | 2.83 / 72 | 4.96 / 126 | 30.63 / 778 | 22.56 / 573 | 14.96 / 380 |
| A1 | 56 | 22.60 / 574 | 71° | 73° | 17.20 / 435 | 41.38 / 1051 | 2.09 / 53 | 2.83 / 72 | 6.14 / 156 | 31.65 / 804 | 23.66 / 601 | 15.32 / 389 |
| A1 | 58 | 23.27 / 591 | 72° | 73° | 17.20 / 435 | 41.77 / 1061 | 1.97 / 50 | 2.77 / 70.5 | 7.13 / 181 | 32.56 / 827 | 24.69 / 627 | 15.71 / 399 |
| A1 | 61 | 23.86 / 606 | 72° | 73° | 17.20 / 435 | 42.36 / 1076 | 1.97 / 50 | 2.77 / 70.5 | 7.91 / 201 | 33.43 / 849 | 25.47 / 647 | 16.02 / 407 |