LIGHTWEIGHT, QUALITY BALANCE BIKES
Manufacturer's Suggested Retail Price excludes shipping costs, dealer assembly/prep, taxes or import duties.
it's all about that balance
Learning a complex activity like bike riding starts with the basics, and getting comfortable balancing on two wheels is the first step. With its oversized saddle, real rubber tires, and lightweight aluminum frame, Critter helps first-time riders get the hang of it. 
Purchase online now and pickup at your local bike shop!
| CRITTER | CRITTER |
| --- | --- |
| Frame | Lightweight 6061 aluminum |
| Fork | Hi-tensile carbon steel unicrown |
| Headset | Standard threaded type, 22.2mm with safety stop |
| Wheels | Anodized black alloy 16H rims with ball-bearingêed hubs & 14G black electroplated spokes |
| Tires | Street comfort, 2.125" |
| Derailleurs | N/A |
| Shift levers | N/A |
| Chain | N/A |
| Cassette | N/A |
| Crankset | N/A |
| BB Set | N/A |
| Pedals | N/A |
| Brakeset | N/A |
| Handlebar | Low-rise comfort design, 380mm wide |
| Stem | Alloy, 40mm extension x 150mm quill |
| Grips | Junior mushroom type |
| Seat Post | Pillar, electro-plated black finish |
| Saddle | Comfort Junior |
| Sizes | 7" |
| Color | Raspberry, Vivid Violet, Victory Red, Ninja Green |
| Weight | 9.75 lbs |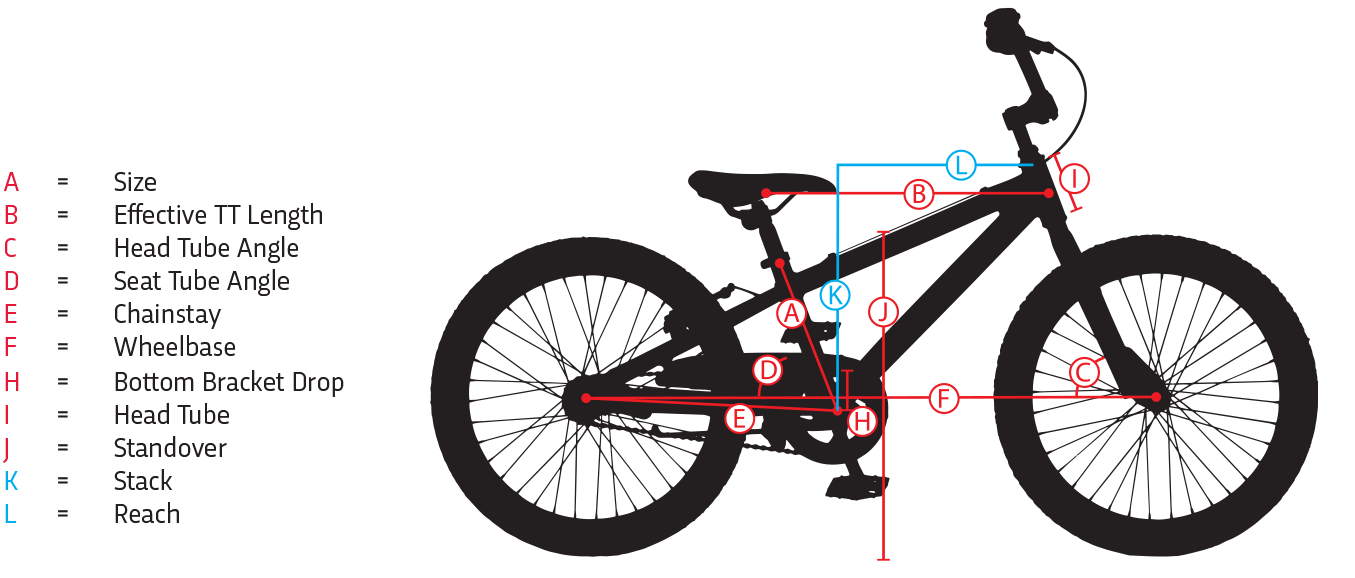 | MODEL | SIZE | TT EFFECTIVE | HT ANGLE | ST ANGLE | CHAINSTAY | WHEELBASE | FORK RAKE | BB HEIGHT | HEADTUBE | STANDOVER |
| --- | --- | --- | --- | --- | --- | --- | --- | --- | --- | --- |
| XR26 | 13″ | 20.90 / 531 | 70.5° | 74° | 16.73 / 425 | 40.27 / 1023 | 1.77 / 45 | 11.89 / 302 | 4.13 / 105 | 27.05 / 687 |
| XR26 | 15″ | 21.42 / 544 | 70.5° | 74° | 16.73 / 425 | 40.83 / 1037 | 1.77 / 45 | 11.89 / 302 | 4.72 / 120 | 28.27 / 718 |
| XR26 | 12″ S/O | 20.51 / 521 | 70.5° | 74° | 16.93 / 430 | 39.88 / 1013 | 1.77 / 45 | 11.89 / 302 | 4.13 / 105 | 24.76 / 629 |
| XR26 | 14″ S/O | 20.75 / 527 | 70° | 73° | 16.93 / 430 | 39.96 / 1015 | 1.77 / 45 | 11.89 / 302 | 4.92 / 125 | 25.27 / 642 |
| KOMODO 24 | 12″ B | 20.16 / 512 | 68° | 73° | 16.54 / 420 | 39.53 / 1004 | 1.77 / 45 | 10.61 / 269.5 | 4.33 / 110 | 23.43 / 595 |
| X.24 DISC | 12" B | 20.39 / 518 | 69° | 72° | 16.14 / 410 | 38.58 / 980 | 1.57 / 40 | 10.63 / 270 | 3.94 / 100 | 22.80 / 579 |
| XR24 | 12" B | 20.59 / 523 | 70° | 72° | 16.14 / 410 | 38.62 / 981 | 1.77 / 45 | 10.28 / 261 | 3.94 / 100 | 22.09 / 561 |
| XR20 | 11″ B | 17.91 / 455 | 70° | 70° | 15.16 / 385 | 34.72 / 882 | 1.77 / 45 | 9.45 / 240 | 3.54 / 90 | 20.32 / 516 |
| CAPRI 24 | 12″ G | 19.45 / 494 | 71° | 70° | 16.73 / 425 | 37.68 / 957 | 1.97 / 50 | 11.02 / 280 | 4.72 / 120 | 21.97 / 558 |
| LASER 20 | 10″ B | 17.91 / 455 | 70° | 70° | 15.16 / 385 | 34.92 / 887 | 1.97 / 50 | 9.41 / 239 | 3.54 / 90 | 20.35 / 517 |
| STARLITE 20 | 10″ G | 18.23 / 463 | 71° | 70° | 15.16 / 385 | 34.92 / 887 | 1.97 / 50 | 9.41 / 239 | 4.72 / 120 | 18.66 / 474 |
| LASER 16 | 8″ B | 15.55 / 395 | 70° | 70° | 13.23 / 336 | 30.24 / 768 | 1.38 / 35 | 7.99 / 203 | 3.35 / 85 | 16.65 / 423 |
| MISS DAISY 16 | 8″ G | 15.83 / 402 | 71° | 70° | 13.23 / 336 | 30.24 / 768 | 1.38 / 35 | 7.99 / 203 | 4.33 / 110 | 15.31 / 389 |
| CRITTER | 8″ B | 12.91 / 328 | 68° | 68° | 9.72 / 247 | 22.91 / 582 | 0.99 / 25 | —- | 2.17 / 55 | 8.62 / 219 |