The perfect first mountain bike
Manufacturer's Suggested Retail Price excludes shipping costs, dealer assembly/prep, taxes or import duties.
Everyone remembers their first mountain bike, and for good reason. It's your first do-it-all bike. X.24 Disc is the perfect combination of performance and value, featuring impressive capabilities for under $600. 
Purchase online now and pickup at your local bike shop!
| X24 DISC | X24 DISC |
| --- | --- |
| Frame | 6061 aluminum main tubes, zero-stack head tube, over- sized stays, replaceable derailleur hanger |
| Fork | XC50 24", coil spring, 25.4mm stanchions, aluminum lowers, 50mm travel |
| Headset | Zero-stack internal cup threadless, 15mm cone spacer |
| Wheels | Alloy 36H black anodized disc rims, alloy 6-bolt disc hubs with QR, 14G black electroplated spokes |
| Tires | CST MTB Sport, 24 x 2.4" |
| Derailleurs | Shimano TY300 rear |
| Shift levers | Shimano RevoShift 35, 7-speed |
| Chain | KMC Z51 |
| Cassette | SunRace MFM2A 7DV, 14-34 |
| Crankset | Forged alloy crank, 152mm, 32T chainring and protective outer rock-ring |
| BB Set | Sealed cartridge |
| Pedals | MTB platform, hi-impact resin |
| Brakeset | Tektro M280 mechanical disc, 160mm rotors and Tektro youth specific levers |
| Handlebar | MTB alloy riser, 6 ̊ sweep x 20mm rise x 580mm wide |
| Stem | MTB alloy threadless, 15 ̊ rise x 60mm extension |
| Grips | Kraton for Grip Shift |
| Seat Post | Alloy micro-adjust, 27.2 x 300mm, with 31.8mm alloy clamp |
| Saddle | Jamis ATB Youth |
| Sizes | 12" |
| Color | Midnight Sky, Palladium, Hot Pink |
| Weight | 28.75 lbs |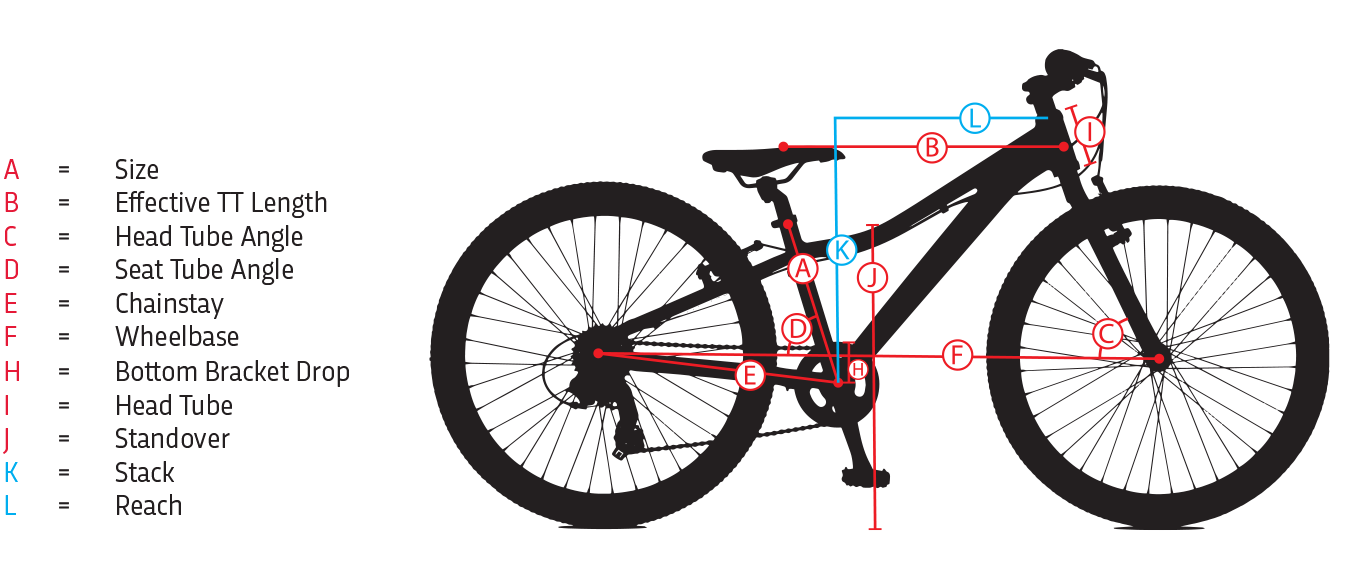 | MODEL | SIZE | TT EFFECTIVE | HT ANGLE | ST ANGLE | CHAINSTAY | WHEELBASE | FORK RAKE | BB HEIGHT | HEADTUBE | STANDOVER |
| --- | --- | --- | --- | --- | --- | --- | --- | --- | --- | --- |
| XR26 | 13″ | 20.90 / 531 | 70.5° | 74° | 16.73 / 425 | 40.27 / 1023 | 1.77 / 45 | 11.89 / 302 | 4.13 / 105 | 27.05 / 687 |
| XR26 | 15″ | 21.42 / 544 | 70.5° | 74° | 16.73 / 425 | 40.83 / 1037 | 1.77 / 45 | 11.89 / 302 | 4.72 / 120 | 28.27 / 718 |
| XR26 | 12″ S/O | 20.51 / 521 | 70.5° | 74° | 16.93 / 430 | 39.88 / 1013 | 1.77 / 45 | 11.89 / 302 | 4.13 / 105 | 24.76 / 629 |
| XR26 | 14″ S/O | 20.75 / 527 | 70° | 73° | 16.93 / 430 | 39.96 / 1015 | 1.77 / 45 | 11.89 / 302 | 4.92 / 125 | 25.27 / 642 |
| KOMODO 24 | 12″ B | 20.16 / 512 | 68° | 73° | 16.54 / 420 | 39.53 / 1004 | 1.77 / 45 | 10.61 / 269.5 | 4.33 / 110 | 23.43 / 595 |
| X.24 DISC | 12" B | 20.39 / 518 | 69° | 72° | 16.14 / 410 | 38.58 / 980 | 1.57 / 40 | 10.63 / 270 | 3.94 / 100 | 22.80 / 579 |
| XR24 | 12" B | 20.59 / 523 | 70° | 72° | 16.14 / 410 | 38.62 / 981 | 1.77 / 45 | 10.28 / 261 | 3.94 / 100 | 22.09 / 561 |
| XR20 | 11″ B | 17.91 / 455 | 70° | 70° | 15.16 / 385 | 34.72 / 882 | 1.77 / 45 | 9.45 / 240 | 3.54 / 90 | 20.32 / 516 |
| CAPRI 24 | 12″ G | 19.45 / 494 | 71° | 70° | 16.73 / 425 | 37.68 / 957 | 1.97 / 50 | 11.02 / 280 | 4.72 / 120 | 21.97 / 558 |
| LASER 20 | 10″ B | 17.91 / 455 | 70° | 70° | 15.16 / 385 | 34.92 / 887 | 1.97 / 50 | 9.41 / 239 | 3.54 / 90 | 20.35 / 517 |
| STARLITE 20 | 10″ G | 18.23 / 463 | 71° | 70° | 15.16 / 385 | 34.92 / 887 | 1.97 / 50 | 9.41 / 239 | 4.72 / 120 | 18.66 / 474 |
| LASER 16 | 8″ B | 15.55 / 395 | 70° | 70° | 13.23 / 336 | 30.24 / 768 | 1.38 / 35 | 7.99 / 203 | 3.35 / 85 | 16.65 / 423 |
| MISS DAISY 16 | 8″ G | 15.83 / 402 | 71° | 70° | 13.23 / 336 | 30.24 / 768 | 1.38 / 35 | 7.99 / 203 | 4.33 / 110 | 15.31 / 389 |
| CRITTER | 8″ B | 12.91 / 328 | 68° | 68° | 9.72 / 247 | 22.91 / 582 | 0.99 / 25 | —- | 2.17 / 55 | 8.62 / 219 |