ON-ROAD / OFF-ROAD RECREATION
Manufacturer's Suggested Retail Price excludes shipping costs, dealer assembly/prep, taxes or import duties.
QUALITY, VERSATILITY, AFFORDABILITY
The Trail XR is built for the rider looking for quality, versatility and affordability in a bike that can handle city streets, rail trails, campus short cuts and suburban cul-de-sacs with comfort and confidence. Inspired by our Trail X mountain bikes, but tuned for everyday 'round-town regular riding, the XR is the perfect fat-tired solution for the buyer on a budget.
Purchase online now and pickup at your local bike shop!
| TRAIL XR | TRAIL XR |
| --- | --- |
| Frame | Hi-tensile steel tubes |
| Fork | Unicrown, hi-tensile steel, with over-sized radiused blades |
| Headset | Threaded |
| Wheels | Alloy 26 x 1.50" 36H rims, heavy-duty ATB hubs with QR, 14G nickel-plated spokes |
| Tires | CST MTB, 26 x 1.95" |
| Derailleurs | Shimano TY300 rear and Shimano TZ30 front |
| Shift levers | Shimano Revoshift 35, 3×7-speed |
| Chain | KMC Z51, 7-speed |
| Cassette | 7-speed freewheel, 13-28T |
| Crankset | Forged alloy crank, 42/34/24T, 170mm |
| BB Set | Bolt type axle |
| Pedals | MTB platform, hi-impact resin |
| Brakeset | Alloy linear pull type with full alloy 4-finger levers |
| Handlebar | Jamis XC riser, 25.4 x 20mm rise x 620mm |
| Stem | Jamis Hi-Rise, Quill type – 60mm (12-14"), 80mm (15-18"), 100mm (19-21") |
| Grips | Kraton for Grip Shift |
| Seat Post | Jamis alloy micro-adjust, 28.6 x 350mm (12-15") 400mm (17-21") |
| Saddle | Jamis ATB Sport, SL cover, protective front and rear guards |
| Sizes | M: 13", 15", 17", 19", 21" S/O: 12", 14", 18" |
| Color | M: Nickel, Gloss Black S/O: Nickel or Powder Blue |
| Weight | 31.75 lbs |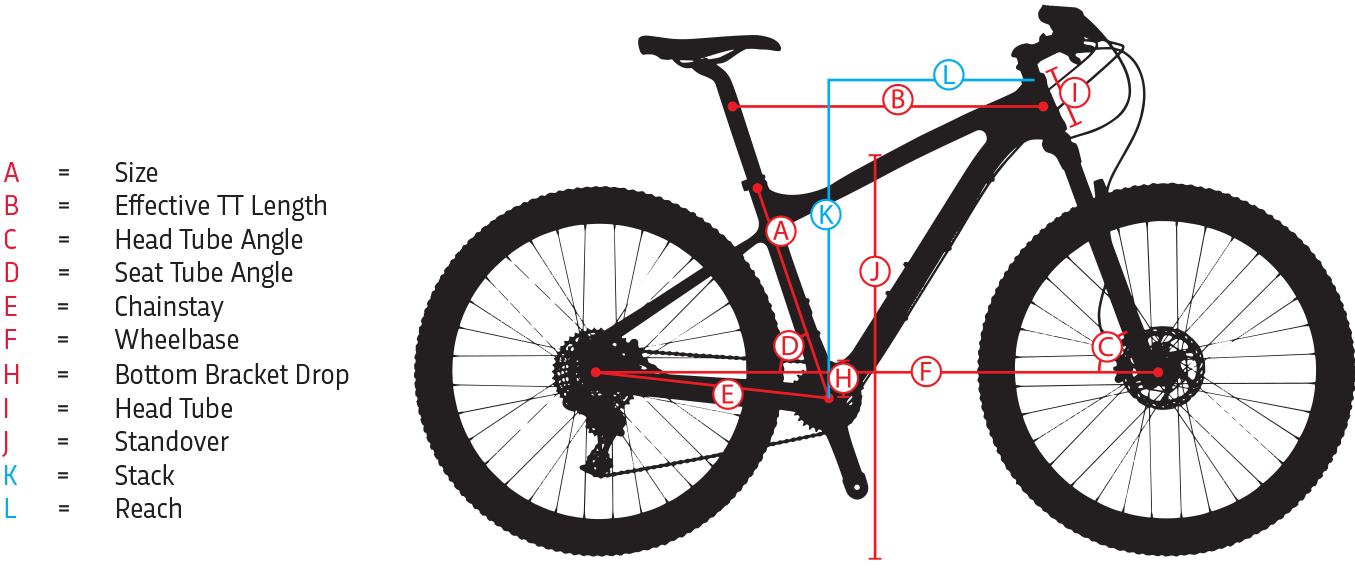 | MODEL | SIZE | TT EFFECTIVE | HT ANGLE | ST ANGLE | CHAINSTAY | WHEELBASE | FORK RAKE | BB HEIGHT | HEADTUBE | STANDOVER |
| --- | --- | --- | --- | --- | --- | --- | --- | --- | --- | --- |
| TRAIL XR | 13″ | 20.90 / 531 | 70.5° | 74° | 16.73 / 425 | 40.27 / 1023 | 1.77 / 45 | 11.89 / 302 | 4.13 / 105 | 27.05 / 687 |
| TRAIL XR | 15″ | 21.42 / 544 | 70.5° | 74° | 16.73 / 425 | 40.83 / 1037 | 1.77 / 45 | 11.89 / 302 | 4.72 / 120 | 28.27 / 718 |
| TRAIL XR | 17″ | 21.89 / 556 | 71° | 73.5° | 16.73 / 425 | 40.90 / 1039 | 1.77 / 45 | 11.89 / 302 | 4.92 / 125 | 29.29 / 744 |
| TRAIL XR | 19″ | 22.52 / 572 | 71° | 73.5° | 16.73 / 425 | 41.57 / 1056 | 1.77 / 45 | 11.89 / 302 | 5.12 / 130 | 30.51 / 775 |
| TRAIL XR | 21″ | 23.34 / 593 | 71.5° | 73° | 16.73 / 425 | 42.05 / 1068 | 1.77 / 45 | 11.89 / 302 | 6.49 / 165 | 32.12 / 816 |
| TRAIL XR | 12″ S/O | 20.51 / 521 | 70.5° | 74° | 16.93 / 430 | 39.88 / 1013 | 1.77 / 45 | 11.89 / 302 | 4.13 / 105 | 24.76 / 629 |
| TRAIL XR | 14″ S/O | 20.75 / 527 | 70° | 73° | 16.93 / 430 | 39.96 / 1015 | 1.77 / 45 | 11.89 / 302 | 4.92 / 125 | 25.27 / 642 |
| TRAIL XR | 18″ S/O | 22.01 / 559 | 70.5° | 72.5° | 16.93 / 430 | 40.83 / 1037 | 1.77 / 45 | 11.89 / 302 | 5.51 / 140 | 26.18 / 665 |