Manufacturer's Suggested Retail Price excludes shipping costs, dealer assembly/prep, taxes or import duties.

"The construction is absolutely top notch..."
Jamis is all in with their 3VO project - to the degree that they chose a small, high-end manufacturer that caters to a hand-picked group of the world's most prestigious brands.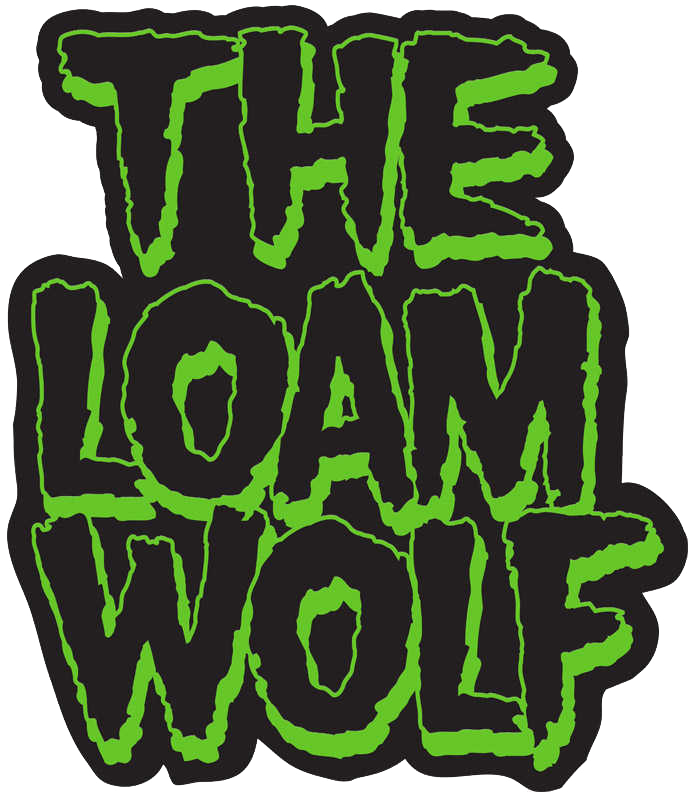 "More than meets the eye"
The Portal stays planted, rips, has the incredibly efficient 3VO suspension design and is overall a bike we would love to stay on...Simply put, this bike is up there with the best all-around trail bikes on the market today.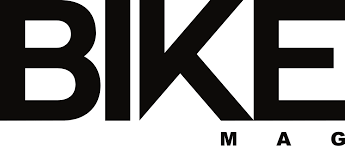 "Believe [most of] the hype."
The Portal pedals very well, with no lockout required. Ever. And as claimed, it was never overly concerned with how much sag I was running. There was no annoying pedal feedback and no noticeable brake jack...

"A unique approach to efficiency..."
The bike felt smooth and swoopy through blown-out berms and chunky rock gardens. On the climb up, I was really impressed with the climbing stiffness of the suspension—it felt super efficient...
This is MTB HimalayaPlaylist
THREE VARIABLE OPTIMIZED.
With the 3VO system's unique virtual pivot characteristics, we're able to combine the efficiency of a hardtail with the proper support of precisely-controlled active suspension. This is how every full-suspension bike should ride.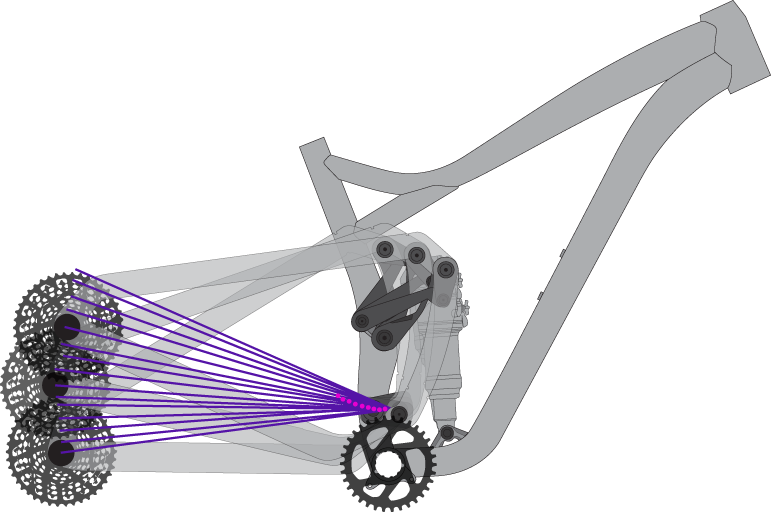 THREE VARIABLE OPTIMIZED.
A rear wheel that stays planted while charging through rough terrain is crucial to providing an intimate connection with the trail. 3VO's initial rearward axle path allows the bike to be supple on small bumps and square edge hits while its tightly tuned relationship with the system's leverage ratio keeps the suspension highly reactive even while pedaling.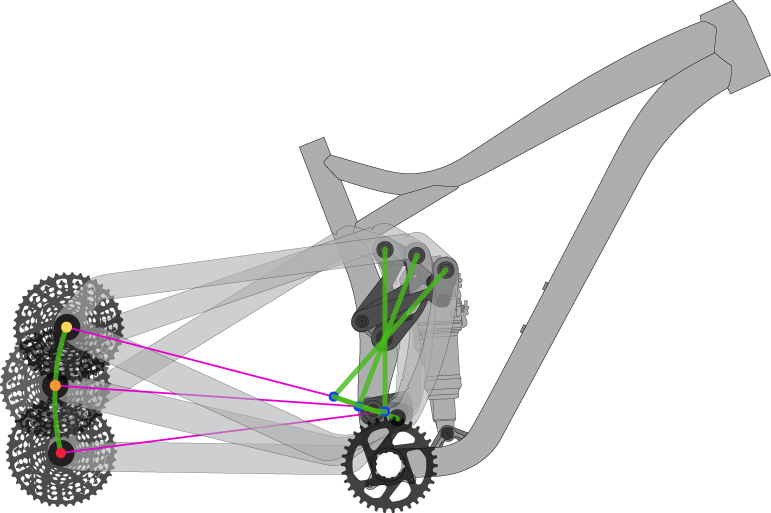 THREE VARIABLE OPTIMIZED.
Imagine having two bikes in one, that's essentially what we've got with 3VO. The tuned multi-phase leverage ratio with initial rising rate provides an unparalleled pedaling platform while remaining keenly adept at sustaining repeated bumps without holdup.
Up to just beyond the sag point, the system employs a slight rising rate. Some designs claim an initial falling rate with high initial leverage improves sensitivity and responsiveness, but these claims seem more driven by a need to market a deficiency than by any genuine benefit. Why? Because up until the sag point of the bike, sensitivity and responsiveness are primarily felt when the suspension is able to extend, not compress.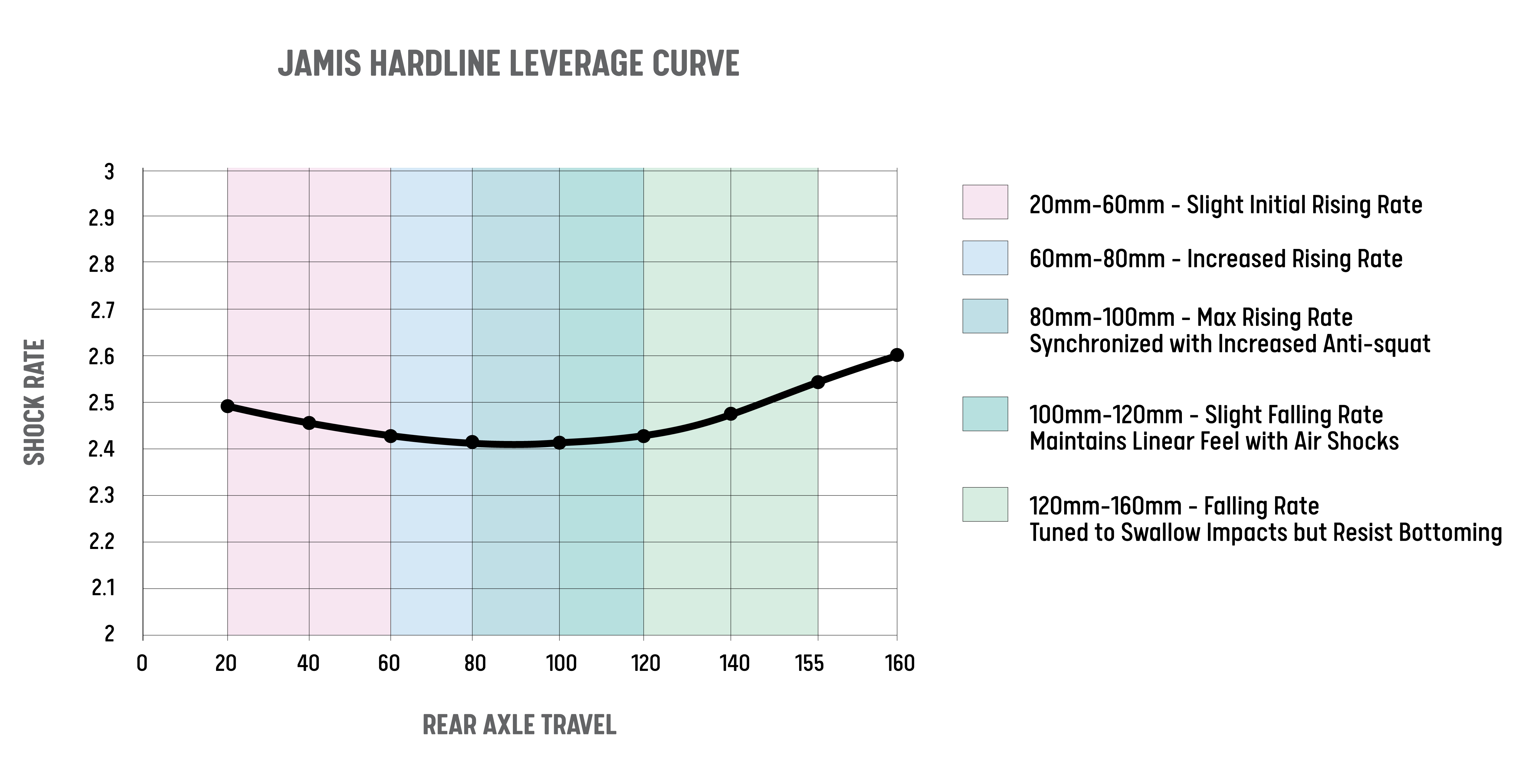 Specifications are subject to change without notice. All bike and frame weights are based off pre-production painted frames. Weights may vary in final production.
PORTAL FRAMESET SPECIFICATIONS
FRAME: Dyad Pro High Modulus Carbon, 130mm
REAR SHOCK: Fox Float DPS Factory Series Kashima EVOL
HEADSET: FSA Orbit IS Integrated
REAR THRU AXLE: 12mm Hollow Alloy
SEAT CLAMP: Alloy 7075, 34.9 Diameter
CHAINSTAY PROTECTOR: Jamis Molded
REAR SHOCK EYE-TO-EYE LENGTH: 210mm
REAR SHOCK STROKE: 55mm
SHOCK HARDWARE UPPER: 30mm x 10mm
SHOCK HARDWARE LOWER: 20mm x 10mm
HEAD TUBE: Tapered 1.125-1.5"
HEAD SET: Integrated IS 42/28.6   IS 52/40
BOTTOM BRACKET SHELL: Threaded BSA 73mm
SEAT POST DIAMETER: 31.6mm
SEAT POST CLAMP DIAMETER: 34.9mm
REAR BRAKE CALIPER MOUNT: 160mm Post Mount
CHAIN GUIDE UPPER: Custom Jamis
CHAIN GUIDE LOWER: ISCG05 2-Bolt
REAR HUB SPACING: 148mm
REAR AXLE: L174mm x M12 x P1.75
| PORTAL | C1 | C2 | C3 | C4 | A2 |
| --- | --- | --- | --- | --- | --- |
| Frame | Dyad Pro High Modulus Carbon Fiber, 130mm travel 3VO suspension, Enduro¨ Max sealed bearing pivots, 1.5 – 1 1/8Ó tapered head tube, 12x148mm thru-axle, Internal dropper post routing, Custom Jamis upper chainguide, MRP SXg lower chainguide,Fox DHX2 Factory Series coil shock w/2-position compression switch, SLS 450lb Spring, high/low speed compression, high/low speed rebound, 10mm hardware, replaceable derailleur hanger | Dyad Pro High Modulus Carbon Fiber, 130mm travel 3VO suspension, Enduro¨ Max sealed bearing pivots, 1.5 – 1 1/8Ó tapered head tube, 12x148mm thru-axle, Internal dropper post routing, Custom Jamis upper chainguide mounts, ISCG05 lower chainguide mounts, Fox Float DPS Factory Series Kashima EVOL shock w/3-position compression, 10mm hardware, replaceable derailleur hanger | Dyad Pro High Modulus Carbon Fiber, 130mm travel 3VO suspension, Enduro¨ Max sealed bearing pivots, 1.5 – 1 1/8Ó tapered head tube, 12x148mm thru-axle, Internal dropper post routing, Custom Jamis upper chainguide mounts, ISCG05 lower chainguide mounts, Fox Float DPS Performance Series EVOL shock w/3-position compression, 10mm hardware, replaceable derailleur hanger | Dyad Pro High Modulus Carbon Fiber, 130mm travel 3VO suspension, Enduro¨ Max sealed bearing pivots, 1.5 – 1 1/8Ó tapered head tube, 12x148mm thru-axle, Internal dropper post routing, Custom Jamis upper chainguide mounts, ISCG05 lower chainguide mounts, Fox Float DPS Performance Series EVOL shock w/3-position compression, 10mm shock hardware, replaceable derailleur hanger | Triple-butted 6061 aluminum, 130mm travel 3VO suspension, Enduro¨ Max sealed bearing pivots, 1.5 – 1 1/8Ó tapered head tube, 12x148mm thru-axle, Internal dropper post routing, Custom Jamis upper chainguide mounts, ISCG05 lower chainguide mounts, Fox Float DPS Performance Series EVOL shock w/3-position compression, 10mm shock hardware, replaceable derailleur hanger |
| Fork | Fox 36 Factory Series Float 29″ w/ 3-position adjust compression & lock-out,15x110mm axle, air spring compression, rebound adjust, tapered alloy steerer, 140mm travel, 51mm rake | Fox 34 Factory Series Float 29″ w/ 3-position adjust compression & lock-out,15x110mm axle, air spring compression, rebound adjust, tapered alloy steerer, 130mm travel, 51mm rake | Fox 34 Performance Series Float 29″ w/ 3-position adjust compression & lock-out,15x110mm axle, air spring compression, rebound adjust, tapered alloy steerer, 130mm travel, 51mm rake | Fox 34 Rhythm Series Float 29″ w/ sweep adjust compression & lock-out,15x110mm axle, air spring compression, rebound adjust, tapered alloy steerer, 130mm travel, 51mm rake | Fox 34 Rhythm Series Float 29″ w/ sweep adjust compression & lock-out,15x110mm axle, air spring compression, rebound adjust, tapered alloy steerer, 130mm travel, 51mm rake |
| Headset | FSA Orbit IS Integrated, 8mm cone spacer | FSA Orbit IS Integrated, 8mm cone spacer | FSA Orbit IS Integrated, 8mm cone spacer | FSA Orbit IS Integrated, 8mm cone spacer | FSA Orbit IS Integrated, 8mm cone spacer |
| Wheels | Stans Flow CB7 Carbon 29″ tubeless wheels, 15x110mm axle front and 12x148mm rear E-SYNC hubs, Sapim D-Light spokes | Stans Flow MK4 29″ tubeless wheels, 15x110mm axle front and 12x148mm rear E-SYNC hubs, Sapim D-Light spokes | Stans Flow S2 29″ tubeless wheels, 15x110mm axle front and 12x148mm rear E-SYNC hubs, Sapim Race spokes | Stan's No Tubes Flow D 29″ rims, Shimano MT410 15x110mm front & 12x148mm rear hubs, stainless spokes | Stan's No Tubes Flow D 29″ rims, Shimano MT410 15x110mm front & 12x148mm rear hubs, stainless spokes |
| Tires | Vittoria Mazza 29 x 2.4″, TNT tubeless | Vittoria Mazza 29 x 2.4″, TNT tubeless | Vittoria Mazza 29 x 2.4″, TNT tubeless | Vittoria Mazza 29 x 2.4″, TNT tubeless | Vittoria Mazza 29 x 2.4″, TNT tubeless |
| Derailleurs | Shimano XTR, 12-speed | Shimano XT, 12-speed | Shimano SLX, 12-speed | Shimano Deore, 12-speed | Shimano Deore, 12-speed |
| Shift levers | Shimano XTR, 1×12-speed | Shimano XT, 1×12-speed | Shimano SLX, 1×12-speed | Shimano Deore, 1×12-speed | Shimano Deore, 1×12-speed |
| Chain | Shimano M9100, 12-speed | Shimano M8100, 12-speed | KMC X12, 12-speed | KMC X12, 12-speed | KMC X12, 12-speed |
| Cassette | Shimano M9100, 12-speed, 10-51T | Shimano M8100, 12-speed, 10-51T | Shimano M7100, 12-speed, 10-51T | Shimano M6100, 12-speed, 10-51T | Shimano M6100, 12-speed, 10-51T |
| Crankset | Shimano XTR M9120, 32T | Shimano XT M8120, 32T | Race Face Aeffect, 32T | Race Face Ride, 32T | Race Face Ride, 32T |
| BB Set | Shimano BSA | Shimano BSA | Race Face BSA | Race Face BSA | Race Face BSA |
| Pedals | N/A | N/A | N/A | N/A | N/A |
| Brakeset | Shimano XTR M9120 4-piston Ice-Tech hydraulic disc, RT-900 180mm rotors | Shimano XT M8120 4-piston Ice-Tech hydraulic disc, RT-800 180mm rotors | Shimano SLX M7120 4-piston Ice-Tech hydraulic disc, RT-70 180mm rotors | Shimano MT420 4-piston hydraulic disc, 180mm front & 160mm rear RT30 rotors | Shimano MT420 4-piston hydraulic disc, 180mm front & 160mm rear RT30 rotors |
| Handlebar | Race Face Turbine R, 800mm x 20mm rise, 35mm diameter | Race Face Turbine R, 800mm x 20mm rise, 35mm diameter | Race Face Aeffect R, 780mm x 20mm rise, 35mm diameter | Race Face Ride, 760mm x 20mm rise, 35mm diameter | Race Face Ride, 760mm x 20mm rise, 35mm diameter |
| Stem | Race Face Turbine R, 50mm extension, 35mm clamp diameter | Race Face Turbine R, 50mm extension, 35mm clamp diameter | Race Face Aeffect R, 50mm extension, 35mm clamp diameter | Race Face Ride, 50mm extension, 35mm clamp diameter | Race Face Ride, 50mm extension, 35mm clamp diameter |
| Grips | Jamis Lock-On | Jamis Lock-On | Jamis Lock-On | Jamis Lock-On | Jamis Lock-On |
| Seat Post | Fox Transfer Factory Series Dropper, 1x remote | Fox Transfer Factory Series Dropper, 1x remote | Race Face Aeffect R Dropper, 1x remote | KS Rage Dropper, Southpaw remote | KS Rage Dropper, Southpaw remote |
| Saddle | WTB Volt | WTB Volt | WTB Volt | WTB Volt | WTB Volt |
| Sizes | S (15.5), M (17), L (19), XL (21) | S (15.5), M (17), L (19), XL (21) | S (15.5), M (17), L (19), XL (21) | S (15.5), M (17), L (19), XL (21) | XS (14.5), S (15.5), M (17), L (19), XL (21) |
| Color | Sandstone | Winter Dusk | Oxblood | Riptide | Storm Grey |
| Weight | 30 lbs | 28.5 lbs | 30 lbs | 31.25 lbs | 33.75 lbs |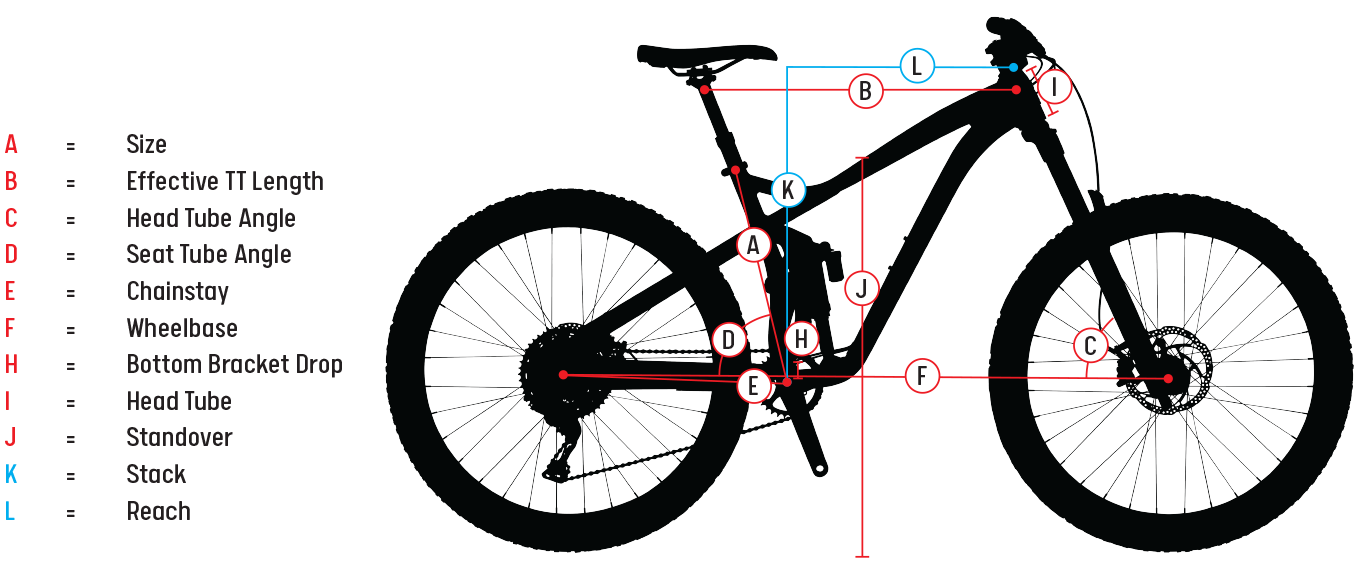 | MODEL | SIZE | TT EFFECTIVE | HT ANGLE | ST ANGLE | CHAINSTAY | WHEELBASE | BB DROP | HEADTUBE | STANDOVER | STACK | REACH |
| --- | --- | --- | --- | --- | --- | --- | --- | --- | --- | --- | --- |
| C1, C2, C3, C4 | S/15.5″ | 23.0 / 585 | LO 67° HI 67.5° | LO 74° HI 74.5° | 17.2 / 437 | 45.2 / 1148 | LO 1.3 / 33 HI 1.0 / 26 | 4.1 / 105 | LO 29.7 / 754 HI 29.9 / 761 | 23.9 / 606 | 16.5 / 418 |
| C1, C2, C3, C4 | M/17″ | 24.0 / 610 | LO 67° HI 67.5° | LO 74° HI 74.5° | 17.2 / 437 | 46.2 / 1173 | LO 1.3 / 33 HI 1.0 / 26 | 4.5 / 115 | LO 29.5 / 749 HI 29.8 / 756 | 24.2 / 615 | 17.3 / 439 |
| C1, C2, C3, C4 | L/19″ | 25.0 / 635 | LO 67° HI 67.5° | LO 74° HI 74.5° | 17.2 / 437 | 47.2 / 1198 | LO 1.3 / 33 HI 1.0 / 26 | 4.9 / 125 | LO 29.7 / 754 HI 29.9 / 761 | 24.6 / 625 | 18.2 / 461 |
| C1, C2, C3, C4 | XL/21″ | 26.0 / 660 | LO 67° HI 67.5° | LO 74˚ HI 74.5° | 17.2 / 437 | 48.2 / 1224 | LO 1.3 / 33 HI 1.0 / 26 | 5.3 / 135 | LO 30.5 / 774 HI 30.7 / 781 | 24.9 / 634 | 18.9 / 482 |
| A2 | XS/14.5″ | 22.0 / 560 | LO 67.5° HI 68° | LO 74.5° HI 75° | 17.2 / 437 | 44.2 / 1122 | LO 1.3 / 33 HI 1.0 / 26 | 3.7 / 95 | LO 28.7 / 731 HI 29.1 / 738 | 23.5 / 597 | 15.6 / 397 |
| A2 | S/15.5″ | 23.0 / 585 | LO 67.5° HI 68° | LO 74.5° HI 75° | 17.2 / 437 | 45.2 / 1148 | LO 1.3 / 33 HI 1.0 / 26 | 4.1 / 105 | LO 29.7 / 754 HI 29.9 / 761 | 23.9 / 606 | 16.5 / 418 |
| A2 | M/17″ | 24.0 / 610 | LO 67.5° HI 68° | LO 74.5° HI 75° | 17.2 / 437 | 46.2 / 1173 | LO 1.3 / 33 HI 1.0 / 26 | 4.5 / 115 | LO 29.5 / 749 HI 29.8 / 756 | 24.2 / 615 | 17.3 / 439 |
| A2 | L/19″ | 25.0 / 635 | LO 67.5° HI 68° | LO 74.5° HI 75° | 17.2 / 437 | 47.2 / 1198 | LO 1.3 / 33 HI 1.0 / 26 | 4.9 / 125 | LO 29.7 / 754 HI 29.9 / 761 | 24.6 / 625 | 18.2 / 461 |
| A2 | XL/21″ | 26.0 / 660 | LO 67.5° HI 68° | LO 74.5 HI 75° | 17.2 / 437 | 48.2 / 1224 | LO 1.3 / 33 HI 1.0 / 26 | 5.3 / 135 | LO 30.5 / 774 HI 30.7 / 781 | 24.9 / 634 | 18.9 / 482 |