Manufacturer's Suggested Retail Price excludes shipping costs, dealer assembly/prep, taxes or import duties.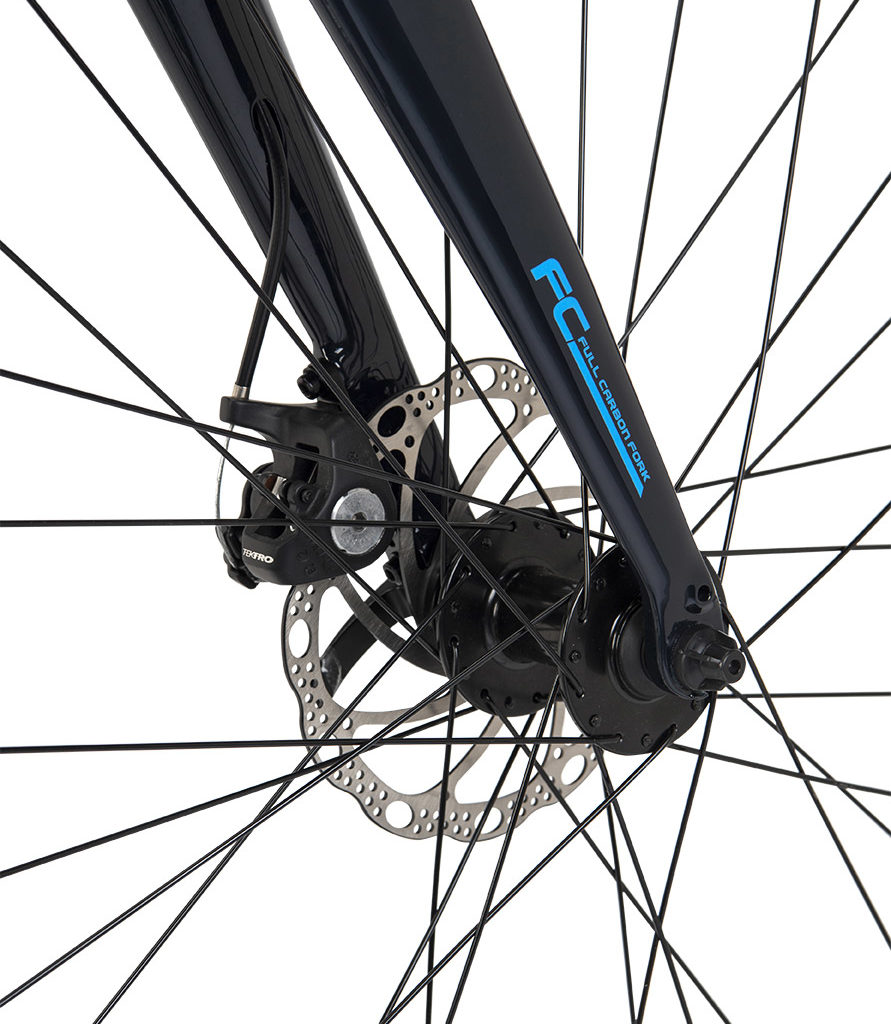 BUILT FOR SPEED. HIGH IN COMFORT.
Our Ventura bikes borrow heavily from our race-proven geometry to help keep you in front on the local Saturday ride. But we've softened the edges of that geo just a bit for a more comfortable and confident ride so you can head out again on Sunday, still fresh and ready to hammer your buddies one more time.
Having chainstay-mounted disc brakes frees the seatstays from their traditional role of brakes reinforcement. So we can focus on designing and tuning the seatstays for their primary purpose: ride compliance and torsional stability.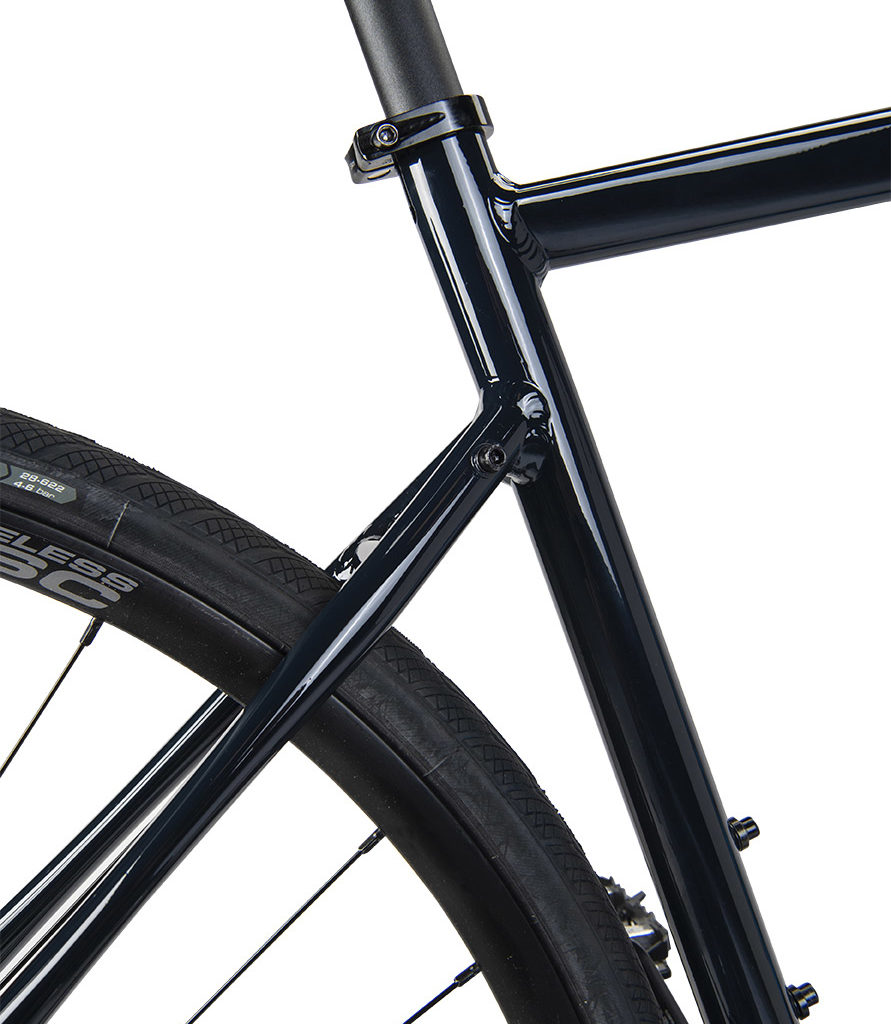 Specifications are subject to change without notice. All bike and frame weights are based off pre-production painted frames. Weights may vary in final production.
| VENTURE | A1 | A1 Women's | A2 | A2 Women's |
| --- | --- | --- | --- | --- |
| Frame | Size Specific Design double-butted 6061 aluminum compact sloping top tube frame design with with redesigned rear triangle, SST tubing diameters and internal cable guides, 1 1.5 – 1 1/8" tapered head tube, butted seat tube for 27.2 seat post, flat mount disc brake mount, replaceable derailleur hanger and fender/rack eyelets | Size Specific Design double-butted 6061 aluminum compact sloping top tube frame design with redesigned rear triangle, SST tubing diameters and internal cable guides, 1 1.5 – 1 1/8" tapered head tube, butted seat tube for 27.2 seat post, flat mount disc brake mount, replaceable derailleur hanger and fender/rack eyelets | Size Specific Design 6061 aluminum compact sloping top tube frame design with redesigned rear triangle, SST tubing diameters and internal cable guides, 1.5 – 1 1/8" tapered head tube, 31.8 seat tube for 27.2 seat post, replaceable derailleur hanger and fender/rack eyelets | Size Specific Design 6061 aluminum compact sloping top tube frame design with redesigned rear triangle, SST tubing diameters and internal cable guides, 1.5 – 1 1/8" tapered head tube, 31.8 seat tube for 27.2 seat post, replaceable derailleur hanger and fender/rack eyelets |
| Fork | Jamis Performance ECO carbon composite with carbon steerer, 1.5" hollow formed crown, monocoque one-piece forming technology, carbon dropouts with stainless tabs, flat mount disc brake mount with internal cable routing, exposed fender eyelets | Jamis Performance ECO carbon composite with carbon steerer, 1.5" hollow formed crown, monocoque one-piece forming technology, carbon dropouts with stainless tabs, flat mount disc brake mount with internal cable routing, exposed fender eyelets | Jamis Performance ECO carbon composite with carbon steerer, 1.5" hollow formed crown, monocoque one-piece forming technology, carbon dropouts with stainless tabs and exposed fender eyelets | Jamis Performance ECO carbon composite with carbon steerer, 1.5" hollow formed crown, monocoque one-piece forming technology, carbon dropouts with stainless tabs and exposed fender eyelets |
| Headset | FSA Integrated, threadless, 1.5 – 1 1/8" | FSA Integrated, threadless, 1.5 – 1 1/8" | FSA Integrated, threadless, 1.5 – 1 1/8" | FSA Integrated, threadless, 1.5 – 1 1/8" |
| Wheels | Alex ATD 470 disc specific rims with TCS (Tubeless Compatible System), 32H, Joytec 6-bolt alloy hubs with QR and 14g stainless steel spokes | Alex ATD 470 disc specific rims with TCS (Tubeless Compatible System), 32H, Joytec 6-bolt alloy hubs with QR and 14g stainless steel spokes | Alex ID-19 double wall alloy rims with GSW sidewall, 28/32H, Joytec alloy hubs with QR and 14g stainless steel spokes | Alex ID-19 double wall alloy rims with GSW sidewall, 28/32H, Joytec alloy hubs with QR and 14g stainless steel spokes |
| Tires | Vittoria Zaffiro, 700 x 28c | Vittoria Zaffiro, 700 x 28c | Vittoria Zaffiro, 700 x 28c | Vittoria Zaffiro, 700 x 28c |
| Derailleurs | Shimano Sora RD-R3000 rear and Sora FD-R3000 front with 31.8mm alloy clamp | Shimano Sora RD-R3000 rear and Sora FD-R3000 front with 31.8mm alloy clamp | Shimano Claris RD-R2000 rear and Shimano Claris FD-R2000 front with 31.8mm alloy clamp | Shimano Claris RD-R2000 rear and Shimano Claris FD- R2000 front with 31.8mm alloy clamp |
| Shift levers | Shimano Sora ST-R3000 Dual Control STI, 18-speed | Shimano Sora ST-R3000 Dual Control STI, 18-speed | Shimano Claris ST-R2000 Dual Control STI, 16-speed | Shimano Claris ST-R2000 Dual Control STI, 16-speed |
| Chain | KMC Z9 | KMC Z9 | KMC Z8 | KMC Z8 |
| Cassette | Shimano HG201 9-speed, 11-32T | Shimano HG201 9-speed, 11-32T | Shimano HG41 8-speed, 11-32T | Shimano HG41 8-speed, 11-32T |
| Crankset | FSA Vero, 50/34T, 170mm (48/51), 172.5mm (54/56), 175mm (58/61) | FSA Vero, 50/34T, 165mm (44/48), 170mm (51/54) | FSA Tempo, 50/34, 170mm (48/51), 172.5 (54/56) 175mm (58/61) | FSA Tempo, 50/34, 165mm (44/48), 170mm (51/54) |
| BB Set | FSA sealed cartridge, 68 x 110.5mm | FSA sealed cartridge, 68 x 110.5mm | FSA sealed cartridge, 68 x 110.5mm | FSA sealed cartridge, 68 x 110.5mm |
| Pedals | Touring platform style, full alloy with toe clips | Touring platform style, full alloy with toe clips | Touring platform style, full alloy with toe clips | Touring platform style, full alloy with toe clips |
| Brakeset | Tektro Lyra mechanical disc brakes and Shimano Sora ST- R3000 STI levers | Tektro Lyra mechanical disc brakes and Shimano Sora ST- R3000 STI levers | Tektro R315 alloy dual pivot calipers with adjustable pads and Shimano Claris ST-R2000 STI levers | Tektro R315 alloy dual pivot calipers with adjustable pads and Shimano Claris ST-R2000 STI levers |
| Handlebar | Ritchey Logic, 6061 aluminum, 31.8 x 400mm (48/51) 420mm (54/56), 440mm (58/61) | Ritchey Comp Logic Curve, 31.6 x 400mm (48/51) 420mm (54) | Jamis Ergo, 6061 aluminum, 31.8 x 380mm (48) 400mm (51/54), 420mm (56/58/61) | Jamis Ergo, 6061 aluminum, 31.8 x 380mm (44) 400mm (48/51), 400mm (54) |
| Stem | Ritchey 4-Axis, 3D forged 6061 alloy, 6 ̊ x 90mm (48/51), 100mm (54/56), 120mm (58/61) | Ritchey 4-Axis, 3D forged 6061 alloy, 6 ̊ x 90mm (44/48), 100mm (51/54) | Jamis Road, 3D forged 6061 alloy, 7 ̊ x 90mm (48/51), 100mm (54/56), 120mm (58/61) | Jamis Road, 3D forged 6061 alloy, 7 ̊ x 90mm (44/48), 100mm (51/54) |
| Grips | Jamis suede tape with gel | Jamis suede tape with gel | Jamis suede tape with gel | Jamis suede tape with gel |
| Seat Post | Ritchey Road, 27.2 x 350mm with alloy clamp | Ritchey Road, 27.2 x 350mm with alloy clamp | Jamis alloy micro-adjust, 27.2 x 350mm with alloy clamp | Jamis alloy micro-adjust, 27.2 x 350mm with alloy clamp |
| Saddle | Selle Royal Asphalt with integrated clip system | Selle Royal Asphalt GF with integrated clip system | NEW Jamis Road Sport with SL top | NEW Jamis Road Sport Women's with SL top |
| Sizes | 48, 51, 54, 56, 58, 61cm | 44, 48, 51, 54cm | 48, 51, 54, 56, 58, 61cm | 44, 48, 51, 54cm |
| Color | Ink | Lotus Blue | Garnet or Palladium | Blue Vapor |
| Weight | 21.0 lbs | 22.25 lbs | 23.0 lbs | 22.75 lbs |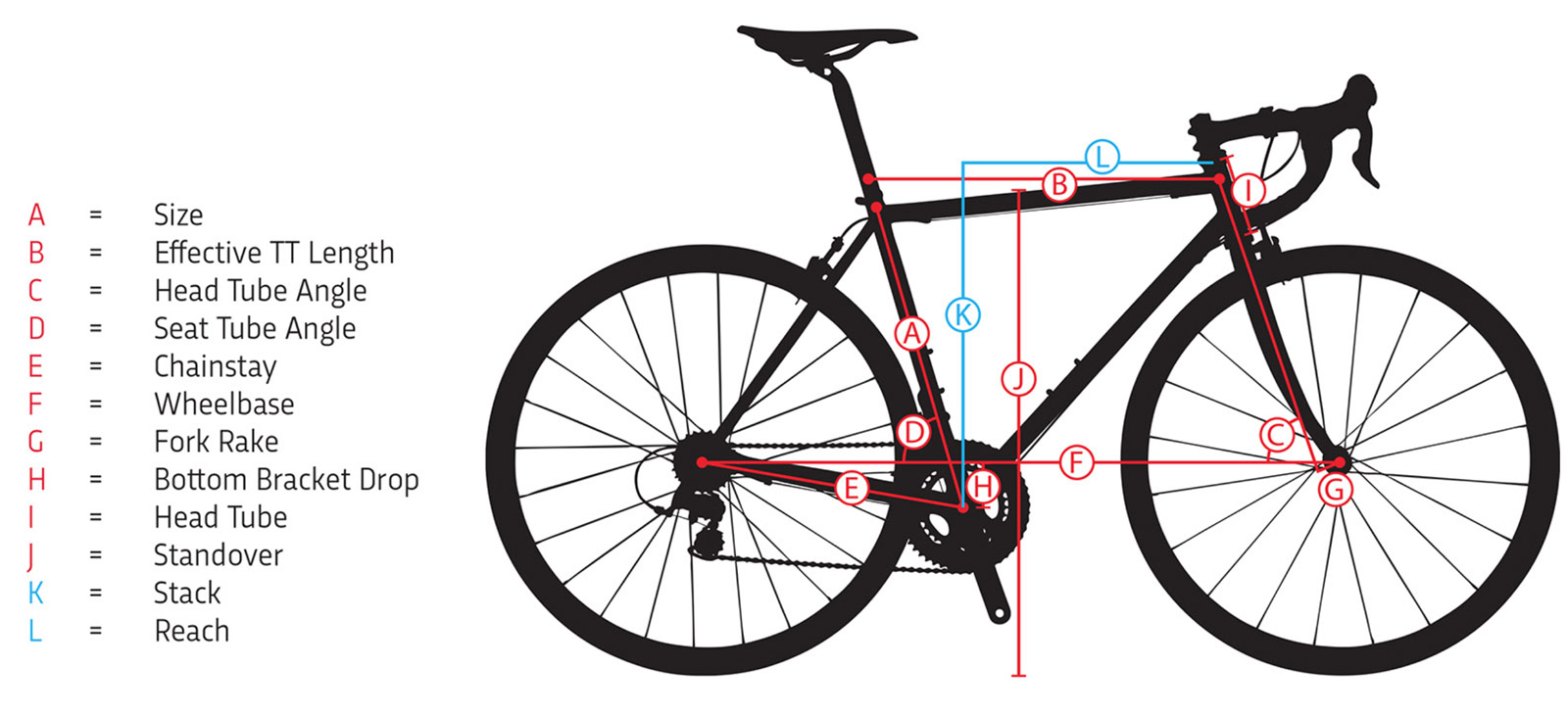 | MODEL | SIZE | TT EFFECTIVE | HT ANGLE | ST ANGLE | CHAINSTAY | WHEELBASE | FORK RAKE | BB DROP | HEADTUBE | STANDOVER | STACK | REACH |
| --- | --- | --- | --- | --- | --- | --- | --- | --- | --- | --- | --- | --- |
| A1, A2 | 48 | 19.88 / 505 | 70° | 75° | 16 / 415 | 38.89 / 988 | 1.97 / 50 | 2.79 / 71 | 4.92 / 125 | 28.70 / 729 | 20.90 / 531 | 14.15 / 360 |
| A1, A2 | 51 | 20.71 / 526 | 71.5° | 74° | 16 / 415 | 38.97 / 990 | 1.97 / 50 | 2.74 / 69 | 5.71 / 145 | 30.08 / 764 | 21.77 / 553 | 14.39 / 365 |
| A1, A2 | 54 | 21.57 / 548 | 72° | 73° | 17 / 420 | 39.21 / 996 | 1.69 / 43 | 2.68 / 68 | 6.30 / 160 | 30.67 / 779 | 22.44 / 570 | 14.67 / 373 |
| A1, A2 | 56 | 22.01 / 559 | 73° | 73 ° | 17 / 420 | 39.29 / 998 | 1.69 / 43 | 2.68 / 68 | 7.28 / 185 | 31.61 / 803 | 23.55 / 598 | 14.81 / 376 |
| A1, A2 | 58 | 22.48 / 571 | 73° | 73° | 17 / 425 | 39.96 / 1015 | 1.69 / 43 | 2.62 / 66 | 8.07 / 205 | 32.32 / 821 | 24.24 / 616 | 15.07 / 383 |
| A1, A2 | 61 | 22.91 / 582 | 73° | 73° | 17 / 425 | 40.39 / 1026 | 1.69 / 43 | 2.62 / 66 | 8.86 / 225 | 32.99 / 838 | 25.00 / 635 | 15.27 / 388 |
| A1, A2 Women's | 44 | 19.33 / 491 | 70° | 76° | 16 / 415 | 38.74 / 984 | 1.97 / 50 | 2.79 / 71 | 4.52 / 115 | 27.87 / 708 | 20.51 / 521 | 14.08 / 358 |
| A1, A2 Women's | 48 | 19.88 / 505 | 71° | 75.5° | 16 / 415 | 38.86 / 987 | 1.97 / 50 | 2.74 / 69 | 5.12 / 130 | 28.90 / 734 | 21.17 / 538 | 14.31 / 363 |
| A1, A2 Women's | 51 | 20.51 / 521 | 71° | 75° | 16 / 415 | 39.37 / 1000 | 1.97 / 50 | 2.74 / 69 | 6.10 / 155 | 30.20 / 767 | 22.10 / 561 | 14.50 / 368 |
| A1, A2 Women's | 54 | 21.14 / 537 | 72° | 74.5° | 17 / 420 | 39.41 / 1001 | 1.69 / 43 | 2.68 / 68 | 6.69 / 170 | 30.94 / 786 | 22.84 / 580 | 14.75 / 375 |