Manufacturer's Suggested Retail Price excludes shipping costs, dealer assembly/prep, taxes or import duties.
Currently unavailable in Australia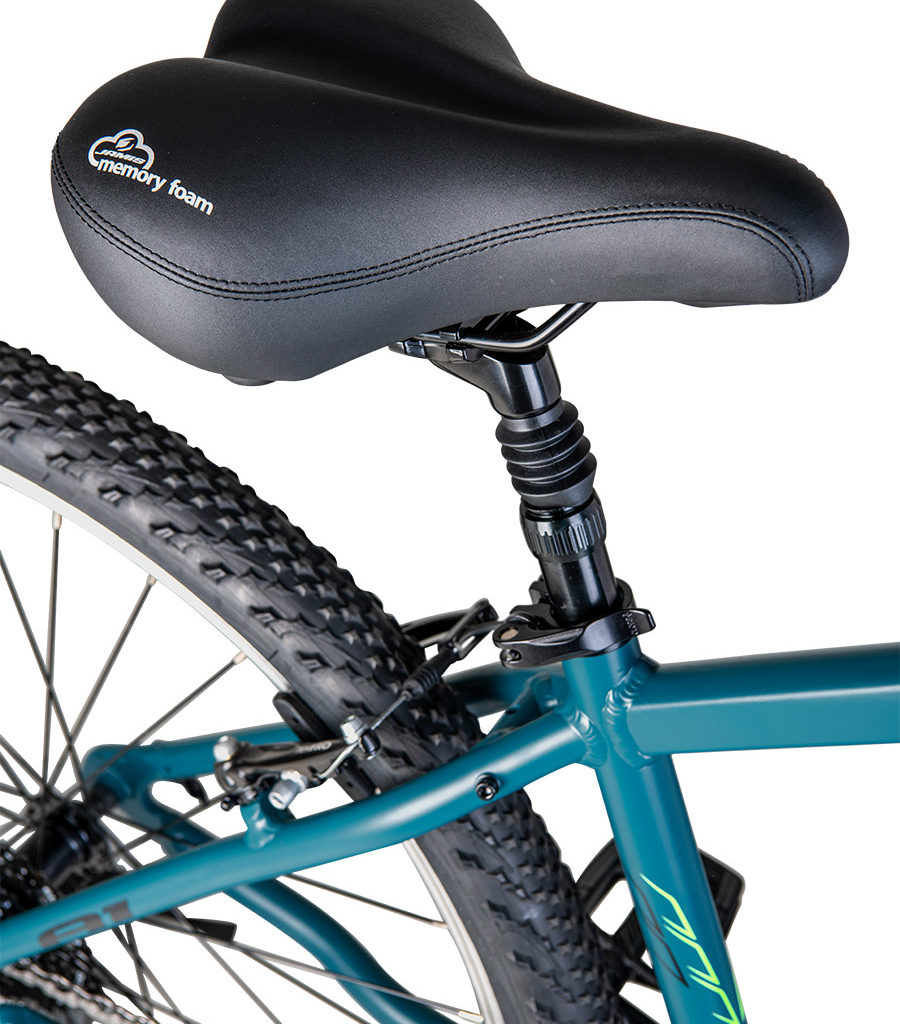 The Explorer has been one of our best-selling bikes, ever since it's introduction in 1982. Originally designed as a mountain bike, the Explorer has since evolved into a very practical and very comfortable sport comfort bike. Inspired in part by our Hudsons and Citizens, without sacrificing the versatile on or off-road competence of the original Explorer, the newest generation Explorer is all about getting the most fun out of the ride, in STYLE, with performance and comfort features that make getting around so effortless it hardly feels like exercise.
Currently unavailable in Australia
When it comes to recreational riding on a so-called comfort bike, nothing gets more uncomfortable faster than having to pedal more weight than necessary. Explorers are built with lightweight 6061 aluminum tubing, resulting in a bike that is as easy to ride as it is to load onto a vehicle.
| EXPLORER | A1 | A2 |
| --- | --- | --- |
| Frame | 6061 TIG-welded aluminum, all-new sport comfort design with upright ride position, replaceable derailleur hanger | 6061 TIG-welded aluminum, all-new sport comfort design with upright ride position, replaceable derailleur hanger |
| Fork | SR Suntour XCE 27.5", coil spring, external preload adjustor, 28mm stanchions, aluminum lowers, 80mm travel | Hi-tensile steel unicrown, radius blades with dropout eyelets |
| Headset | Internal cup, threaded, 1 1/8" | Internal cup, threaded, 1 1/8" |
| Wheels | Double-wall alloy rims, 32H, alloy hubs with QR, 14g stainless steel spokes | Alloy 36H rims, Formula alloy hubs, QR front and rear, 14g stainless steel spokes |
| Tires | CST – 1918, 27.5 x 2.1 | CST – 1918, 27.5 x 2.1 |
| Derailleurs | Shimano TX-800 rear, Shimano TY710 31.8mm top swing/ dual pull front | Shimano TY300 rear and TY510 top swing/dual pull front |
| Shift levers | Shimano EZ-Fire Plus, ST-EF510, 24-speed | Shimano EZ-Fire Plus, ST-EF500, 21-speed |
| Chain | KMC Z7 | KMC Z7 |
| Cassette | Shimano HG20, 8-speed, 12-32 | Shimano freewheel 7-speed, 14-34 |
| Crankset | Shimano TY301, 48/38/28T, 170mm with chainguard | Forged alloy, 48/38/28T, 170mm with chainguard |
| BB Set | Sealed cartridge, 68 x 110.5mm | Sealed cartridge, 68 x 110.5mm |
| Pedals | Comfort platform with TPE non-slip insert | Comfort platform with TPE non-slip insert |
| Brakeset | Tektro forged alloy direct pull brakes with Shimano levers | ProMax alloy direct pull brakes with Shimano levers |
| Handlebar | Comfort hi-rise, alloy 25.4 x 80mm rise x 15 ̊ sweep x 640mm | Comfort hi-rise, steel, 25.4 x 80mm rise x 15 ̊ sweep x 640mm |
| Stem | Jamis alloy, angle-adjustable, 90mm ext x 150mm quill (14 ̊18") or 110mm ext x 180mm quill (19 ̊21") | Jamis alloy, angle-adjustable, 90mm ext x 150mm quill (14 ̊18") or 110mm ext x 180mm quill (19 ̊21") |
| Grips | Kraton comfort | Kraton comfort |
| Seat Post | Suspension, alloy micro-adjust, 350mm x 27.2mm, with alloy QR clamp | Alloy micro-adjust, 350mm x 27.2mm, with alloy QR clamp |
| Saddle | Jamis Comfort with memory foam, synthetic suede top, burnished side panels and bumper springs | Jamis Comfort with extra thick padding, synthetic suede top, burnished side panels and bumper springs |
| Sizes | M: 15", 17", 19", 21" S/T: 14", 16", 18" | M: 15", 17", 19", 21" S/T: 14", 16", 18" |
| Color | M: Ano Palladium, Riptide S/T: Ano Palladium or Ano Teal | M: Ano Deep Blue, Charcoal S/T: Ano Sage or Deep Blue |
| Weight | 34.50 lbs | 30.50 lbs |
| MODEL | SIZE | TT EFFECTIVE | HT ANGLE | ST ANGLE | CHAINSTAY | WHEELBASE | FORK RAKE | BB HEIGHT | HEADTUBE | STANDOVER |
| --- | --- | --- | --- | --- | --- | --- | --- | --- | --- | --- |
| A1 | 15″ | 22.24 / 565 | 69° | 71° | 17.72 / 450 | 41.54 / 1055 | 1.65 / 42 | 11.18 / 284 | 5.32 / 135 | 28.27 / 718 |
| A1 | 17″ | 23.11 / 587 | 70° | 71° | 17.72 / 450 | 41.97 / 1066 | 1.65 / 42 | 11.18 / 284 | 6.50 / 165 | 30.87 / 784 |
| A1 | 19″ | 23.54 / 598 | 70° | 71° | 17.72 / 450 | 42.40 / 1077 | 1.65 / 42 | 11.18 / 284 | 7.28 / 185 | 32.44 / 824 |
| A1 | 21″ | 24.29 / 617 | 70° | 71° | 17.72 / 450 | 43.19 / 1097 | 1.65 / 42 | 11.18 / 284 | 8.27 / 210 | 34.25 / 870 |
| A1 | 14″ S/T | 21.86 / 555 | 69° | 72° | 17.72 / 450 | 41.61 / 1057 | 1.65 / 42 | 11.18 / 284 | 5.51 / 140 | 18.94 / 481 |
| A1 | 16″ S/T | 22.72 / 577 | 69° | 71° | 17.72 / 450 | 42.01 / 1067 | 1.65 / 42 | 11.18 / 284 | 5.91 / 150 | 19.17 / 487 |
| A1 | 18″ S/T | 23.39 / 594 | 70° | 71° | 17.72 / 450 | 42.21 / 1072 | 1.65 / 42 | 11.18 / 284 | 6.30 / 160 | 19.06 / 484 |
| A2 | 15″ | 22.40 / 569 | 69° | 71° | 17.72 / 450 | 41.69 / 1059 | 1.65 / 42 | 11.18 / 284 | 6.10 / 155 | 28.62 / 727 |
| A2 | 17″ | 23.11 / 587 | 70° | 71° | 17.72 / 450 | 41.97 / 1066 | 1.65 / 42 | 11.18 / 284 | 6.89 / 175 | 30.24 / 768 |
| A2 | 19″ | 23.54 / 598 | 70° | 71° | 17.72 / 450 | 42.40 / 1077 | 1.65 / 42 | 11.18 / 284 | 7.68 / 195 | 31.81 / 808 |
| A2 | 21″ | 24.33 / 618 | 70° | 71° | 17.72 / 450 | 43.19 / 1097 | 1.65 / 42 | 11.18 / 284 | 8.66 / 220 | 33.35 / 847 |
| A2 | 14″ S/T | 21.93 / 557 | 69° | 72° | 17.72 / 450 | 41.61 / 1057 | 1.65 / 42 | 11.18 / 284 | 6.30 / 160 | 18.81 / 478 |
| A2 | 16″ S/T | 22.76 / 578 | 69° | 71° | 17.72 / 450 | 42.01 / 1067 | 1.65 / 42 | 11.18 / 284 | 6.69 / 170 | 19.02 / 483 |
| A2 | 18″ S/T | 23.39 / 594 | 69° | 71° | 17.72 / 450 | 42.21 / 1072 | 1.65 / 42 | 11.18 / 284 | 7.09 / 180 | 19.13 / 486 |