Manufacturer's Suggested Retail Price excludes shipping costs, dealer assembly/prep, taxes or import duties.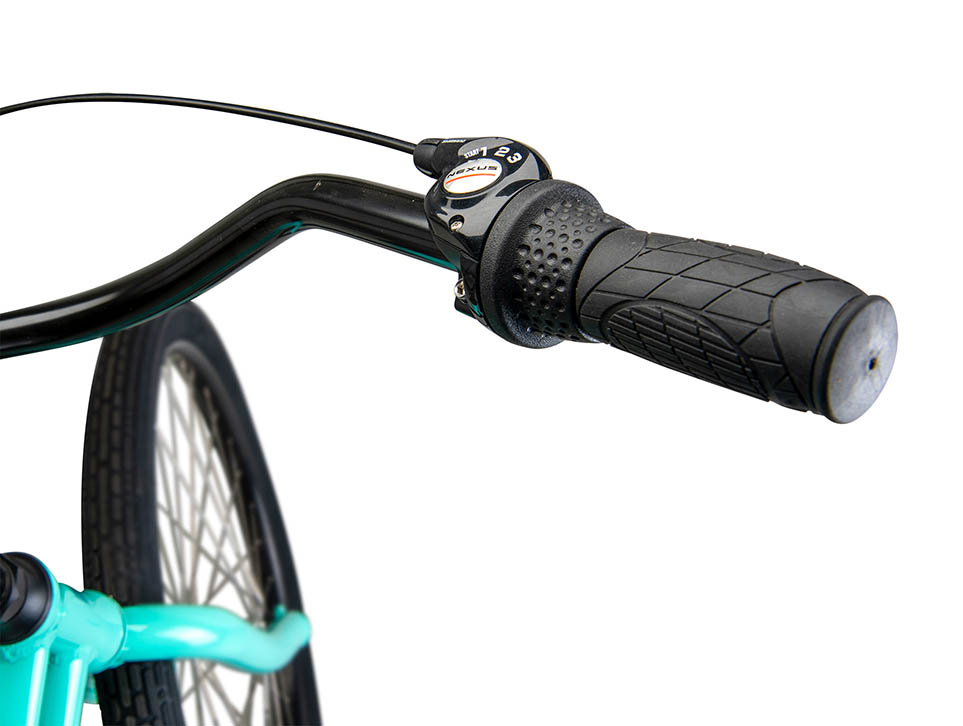 DETAILS YOU WON'T FIND ANYWHERE ELSE
Our cruise-control handlebars were designed to promote a comfortable no-weight-on-the-wrists riding position. With just the right sweep and rise, these handlebars meet the rider's hands without requiring a forward bend at the waist, relieving pressure on the back of the neck. Handlebar width has also been carefully calculated so that when steered from left to right it does not contact the rider, unlike many other cruiser-style handlebars.
Our Earth Cruiser saddles are not just great looking, they're extraordinarily comfortable as well. Though the size and shape is clearly generous, we've also molded a channel into the top of the saddle to relieve sitting pressure and used high-quality memory or polyurethane foam for the supporting mattress. Memory foam (on the EC1 and 3) was originally developed by NASA and is now used extensively for medical applications. It is much denser than the foams ordinarily used in saddles, which makes it more supportive and more comfortable.
| EARTH CRUISER | EC3 | EC1 | EC2 |
| --- | --- | --- | --- |
| Frame | Classic Cantilever design with 6061 aluminum tubing, includes kickstand and painted steel chainguard | Classic Cantilever design with 6061 aluminum tubing, includes kickstand and painted steel chainguard | Classic Cantilever design with hi-tensile steel tubing, includes kickstand and painted steel chainguard |
| Fork | Hi-tensile unicrown with radiused blades | Hi-tensile unicrown with radiused blades | Hi-tensile unicrown with radiused blades |
| Headset | Internal cup, threaded, 1 1/8" | Internal cup, threaded, 1 1/8" | Internal cup, threaded, 1" |
| Wheels | Alex Zuma 36H black anodized alloy rims with alloy nutted front hub and Shimano 3-speed rear, 14 gauge stainless steel spokes | Alex Zuma 36H black anodized alloy rims with alloy nutted front hub and Hi-Stop CB rear, 14 gauge stainless steel spokes | Alex Zuma 36H black anodized alloy rims with alloy nutted front hub and Hi-Stop coaster brake rear, 14 gauge stainless steel spokes |
| Tires | CST Metropolitan Palm Bay, 26" x 2.35 | CST Metropolitan Palm Bay, 26" x 2.35 | CST Metropolitan Palm Bay, 26" x 2.35 |
| Derailleurs | N/A | N/A | N/A |
| Shift levers | Shimano RevoShift, 3-speed | N/A | N/A |
| Chain | KMC Z410NP, silver | KMC Z410NP, silver | KMC Z410 |
| Cassette | Shimano 23T | 18T | 18T |
| Crankset | Forged alloy crank, 170mm, with 44T chainring | Forged alloy crank, 170mm, with 44T chainring | ED Black arm with 44T chainring |
| BB Set | Sealed cartridge, 68 x 122.5mm | Sealed cartridge, 68 x 122.5mm | OPC type |
| Pedals | Cruiser platform with grip tape | Cruiser platform with grip tape | Cruiser platform with TPE comfort insert |
| Brakeset | Shimano coaster brake | Hi-Stop coaster brake | Hi-Stop coaster brake |
| Handlebar | Jamis Cruise-control comfort bar | Jamis Cruise-control comfort bar | Jamis Cruise-control comfort bar |
| Stem | Alloy hi-rise, 180mm quill, 100mm extension, with removeable 2-bolt cap | Alloy hi-rise, 180mm quill, 100mm extension, with removeable 2-bolt cap | Alloy hi-rise, 180mm quill, 100mm extension, with removeable 2-bolt cap |
| Grips | Comfort style | Comfort style | Comfort style |
| Seat Post | Alloy micro-adjust, 27.2 x 300mm, with 31.8mm alloy clamp and cromo seatpin | Alloy micro-adjust, 27.2 x 300mm, with 31.8mm alloy clamp and cromo seatpin | Alloy pillar style, 28.6 x 300mm, with 31.8mm alloy clamp and cromo seatpin |
| Saddle | Earth Cruiser Comfort with memory foam padding, synthetic suede top, burnished sides and bumper springs | Earth Cruiser Comfort with memory foam padding, synthetic suede top, burnished sides and bumper springs | Earth Cruiser Comfort with extra thick padding, synthetic suede top, burnished sides and bumper springs |
| Sizes | M: 18" & 21" S/T: 15" & 17" | M: 18" & 21" S/T: 15" & 17" | M: 18" & 21" S/T: 15" & 17" |
| Color | M: Gloss Black, Clay, Teal Fo' Real S/T: Gloss Black, Sky Blue, Vanilla Mint | M: Kinetic Grey, Mash, Radiant Blue S/T: Banan-Appeal, Coral, Ocean Mist | M: Ano Black, Blood Red, Galaxy Blue S/T: Pure White, Radiant Teal, Vivid Violet |
| Weight | 30.75 lbs | 29.25 lbs | 33.50 lbs |
| MODEL | SIZE | TT EFFECTIVE | HT ANGLE | ST ANGLE | CHAINSTAY | WHEELBASE | FORK RAKE | BB HEIGHT | HEADTUBE | STANDOVER |
| --- | --- | --- | --- | --- | --- | --- | --- | --- | --- | --- |
| EC3 | MD | 24.65 / 626 | 69° | 67° | 18.70 / 475 | 43.58 / 1107 | 2.17 / 55 | 11.02 / 280 | 5.12 / 130 | 30.55 / 776 |
| EC3 | LG | 26.22 / 666 | 69° | 67° | 18.70 / 475 | 45.16 / 1147 | 2.17 / 55 | 11.02 / 280 | 5.51 / 140 | 32.28 / 820 |
| EC3 | SM S/T | 23.82 / 605 | 69° | 67° | 18.70 / 475 | 42.80 / 1087 | 2.17 / 55 | 11.02 / 280 | 4.72 / 120 | 20.32 / 516 |
| EC3 | MD S/T | 24.65 / 626 | 69° | 67° | 18.70 / 475 | 43.58 / 1107 | 2.17 / 55 | 11.02 / 280 | 5.12 / 130 | 20.79 / 528 |
| EC1 | MD | 24.65 / 626 | 69° | 67° | 18.70 / 475 | 43.58 / 1107 | 2.17 / 55 | 11.02 / 280 | 5.12 / 130 | 30.55 / 776 |
| EC1 | LG | 26.22 / 666 | 69° | 67° | 18.70 / 475 | 45.16 / 1147 | 2.17 / 55 | 11.02 / 280 | 5.51 / 140 | 32.28 / 820 |
| EC1 | SM S/T | 23.82 / 605 | 69° | 67° | 18.70 / 475 | 42.80 / 1087 | 2.17 / 55 | 11.02 / 280 | 4.72 / 120 | 20.32 / 516 |
| EC1 | MD S/T | 24.65 / 626 | 69° | 67° | 18.70 / 475 | 43.58 / 1107 | 2.17 / 55 | 11.02 / 280 | 5.12 / 130 | 20.79 / 528 |
| EC2 | MD | 24.65 / 626 | 69° | 67° | 18.70 / 475 | 43.58 / 1107 | 2.17 / 55 | 11.02 / 280 | 5.12 / 130 | 30.55 / 776 |
| EC2 | LG | 26.22 / 666 | 69° | 67° | 18.70 / 475 | 45.16 / 1147 | 2.17 / 55 | 11.02 / 280 | 5.51 / 140 | 32.28 / 820 |
| EC2 | SM S/T | 23.82 / 605 | 69° | 67° | 18.70 / 475 | 42.80 / 1087 | 2.17 / 55 | 11.02 / 280 | 4.72 / 120 | 20.32 / 516 |
| EC2 | MD S/T | 24.65 / 626 | 69° | 67° | 18.70 / 475 | 43.58 / 1107 | 2.17 / 55 | 11.02 / 280 | 5.12 / 130 | 20.79 / 528 |