Manufacturer's Suggested Retail Price excludes shipping costs, dealer assembly/prep, taxes or import duties.
The dual-sport DXT's are pumped-up, go-anywhere/do-anything versions of our Allegro fitness bikes. With more gearing range to take on steeper hills and tougher terrain. Wider tires with a trail-capable tread for access to more riding areas, both paved and packed. And disc brakes and suspension forks for real off-road exploration and off-pavement adventure
The advantages of disc brakes over rim brakes on a versatile bike like the DXT far exceed their sole disadvantage, weight gain. Besides their incredible power and modulation, they're just plain safer, especially in the rain. Once rims get wet or muddy, using friction to stop the wheel at its circumference is less efficient than using friction to stop a less wet or muddy small diameter disc near the center of the wheel from rotating. And eliminating the rim from braking surface duties results in a longer lasting wheel.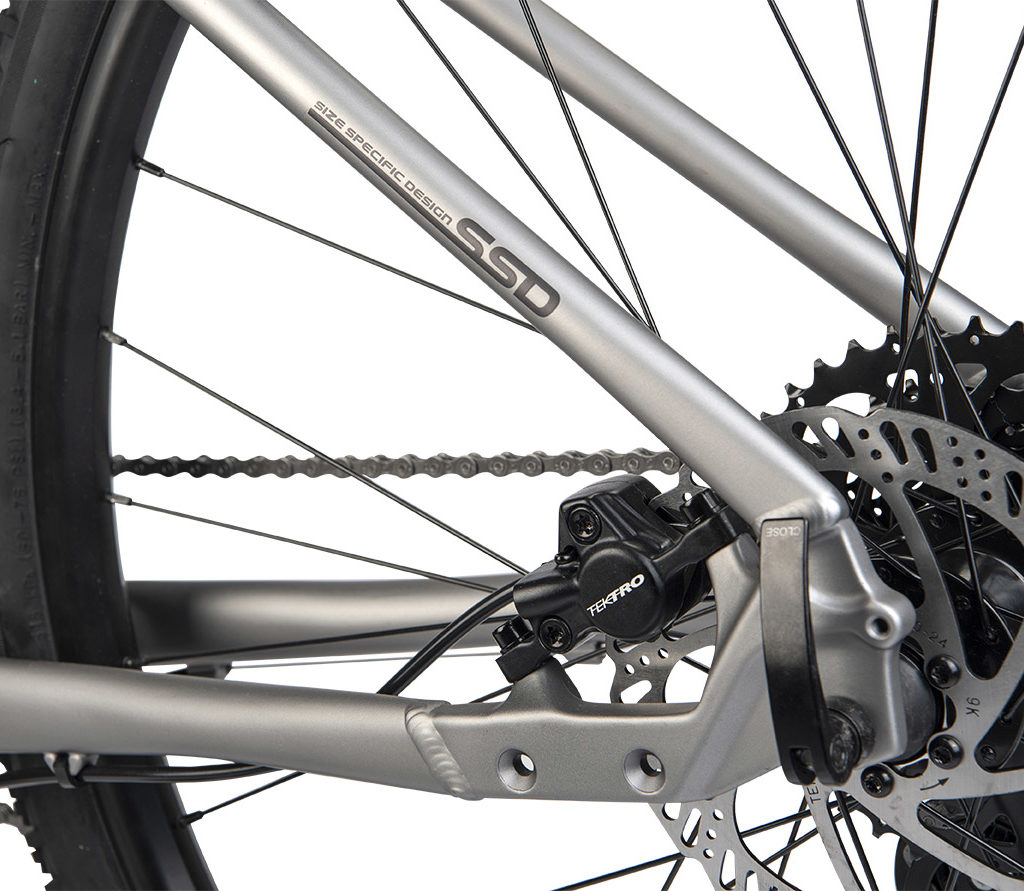 Specifications are subject to change without notice. All bike and frame weights are based off pre-production painted frames. Weights may vary in final production.
| DXT | A1 | A1 S/O | A2 | A2 S/O | A3 | A3 S/O |
| --- | --- | --- | --- | --- | --- | --- |
| Frame | Size Specific Design Triple-butted 6061 aluminum with fast back rear triangle, 1 1/8" head tube, internal cable routing, oval chain stays with post mount disc brake with kickstand mount, 34.9mm seat tube, replaceable derailleur hanger and fender/rack eyelets. | Size Specific Design Triple-butted 6061 aluminum with fast back rear triangle, 1 1/8" head tube, internal cable routing, oval chain stays with post mount disc brake with kickstand mount, 34.9mm seat tube, replaceable derailleur hanger and fender/rack eyelets. | Size Specific Design 6061 aluminum with fast back rear triangle, 1 1/8" head tube, internal cable routing, chain stays disc brake mounts, 34.9mm seat tube, kickstand mount, replaceable derailleur hanger, fender/rack eyelets and ring lock mount eyelets. | Size Specific Design 6061 aluminum with fast back rear triangle, 1 1/8" head tube, internal cable routing, chain stays disc brake mounts, 34.9mm seat tube, kickstand mount, replaceable derailleur hanger, fender/rack eyelets and ring lock mount eyelets. | Size Specific Design 6061 aluminum with fast back rear triangle, 1 1/8" head tube, internal cable routing, chain stays disc brake mounts, 34.9mm seat tube, kickstand mount, replaceable derailleur hanger, fender/rack eyelets and ring lock mount eyelets. | Size Specific Design 6061 aluminum with fast back rear triangle, 1 1/8" head tube, internal cable routing, chain stays disc brake mounts, 34.9mm seat tube, kickstand mount, replaceable derailleur hanger, fender/rack eyelets and ring lock mount eyelets. |
| Fork | SR/Suntour NVX HLO, aluminum lowers, coil spring, 28mm stanchions, 1-1/8" steerer, aluminum crown, hydraulic lock out, 75mm travel | SR/Suntour NVX HLO, aluminum lowers, coil spring, 28mm stanchions, 1-1/8" steerer, aluminum crown, hydraulic lock out, 75mm travel | SR/Suntour NVX HLO, aluminum lowers, coil spring, 28mm stanchions, 1-1/8" steerer, aluminum crown, hydraulic lock out, 75mm travel | SR/Suntour NVX HLO, aluminum lowers, coil spring, 28mm stanchions, 1-1/8" steerer, aluminum crown, hydraulic lock out, 75mm travel | SR/Suntour NVX-DS, aluminum lowers, coil spring, 28mm stanchions, 1-1/8" steerer, 75mm travel | SR/Suntour NVX-DS, aluminum lowers, coil spring, 28mm stanchions, 1-1/8" steerer, 75mm travel |
| Headset | FSA Internal cup, threadless 1 1/8" | FSA Internal cup, threadless 1 1/8" | Internal Cup, threadless, 1 1/8" | Internal Cup, threadless, 1 1/8" | Internal Cup, threadless, 1 1/8" | Internal Cup, threadless, 1 1/8" |
| Wheels | WTB STX i23 TCS (UST Tubeless Compliant System) disc rims, 32H, Joytec disc hubs and 14g stainless steel spokes | WTB STX i23 TCS (UST Tubeless Compliant System) disc rims, 32H, Joytec disc hubs and 14g stainless steel spokes | Alex TD26 disc specific double wall alloy rims, 36H, alloy disc hubs with QR and 14g black electroplated spokes | Alex TD26 disc specific double wall alloy rims, 36H, alloy disc hubs with QR and 14g black electroplated spokes | Alex TD26 disc specific double wall alloy rims, 32H, alloy disc hubs with QR and 14g black electroplated spokes | Alex TD26 disc specific double wall alloy rims, 32H, alloy disc hubs with QR and 14g black electroplated spokes |
| Tires | CST Dual Sport Tire, 700 x 42c | CST Dual Sport Tire, 700 x 42c | CST Dual Sport Tire, 700 x 42c | CST Dual Sport Tire, 700 x 42c | CST Dual Sport Tire, 700 x 42c | CST Dual Sport Tire, 700 x 42c |
| Derailleurs | MicroShift Advent Active Motion RD+ with clutch real deraillier | MicroShift Advent Active Motion RD+ with clutch real deraillier | Shimano Acera RD-M360 rear and Shimano FD-TY710-2 front | Shimano Acera RD-M360 rear and Shimano FD-TY710-2 front | Shimano TY300 rear and TY510 top swing front | Shimano TY300 rear and TY510 top swing front |
| Shift levers | MicroShift Advent Xpress shifter with bearing, 9-speed | MicroShift Advent Xpress shifter with bearing, 9-speed | Shimano Altus Rapid Fire SL-M315, 16-speed | Shimano Altus Rapid Fire SL-M315, 16-speed | Shimano Rapid Fire SL-EF500, 2-speed | Shimano Rapid Fire SL-EF500, 2-speed |
| Chain | KMC Z9 | KMC Z9 | KMC Z7 | KMC Z7 | KMC Z7 | KMC Z7 |
| Cassette | MicroShift 11-42T | MicroShift 9-speed, 11-42T | Shimano HG31, 8-speed, 11-34T | Shimano HG31, 8-speed, 11-34T | Shimano CS-HG200, 7-speed, 12-32T | Shimano CS-HG200, 7-speed, 12-32T |
| Crankset | SAMOX Alloy forged crank with 32T steel chainring(BCD104). 170mm (15-17"), 175mm (19-23") | SAMOX Alloy forged crank with 32T steel chainring(BCD104), 170mm | Shimano FC-TY501-2, 46/30, 170mm (15-17"), 175mm (19-23") | Shimano FC-TY501-2, 46/30, 170mm | Forged alloy crank with chain guard, 48/38/28T, 170mm | Forged alloy crank with chain guard, 48/38/28T, 170mm |
| BB Set | FSA sealed cartridge, 68 x 110.5mm | FSA sealed cartridge, 68 x 110.5mm | VP sealed cartridge, 68 x 122.5mm | VP sealed cartridge, 68 x 122.5mm | VP sealed cartridge, 68 x 122.5mm | VP sealed cartridge, 68 x 122.5mm |
| Pedals | Full alloy platform, toe clip attachable | Full alloy platform, toe clip attachable | Platform style | Platform style | Platform style | Platform style |
| Brakeset | Tektro HD-M275/276 hydraulic disc brakes with 160mm rotors and Tektro brake levers. 15" M276 (83mm reach); 17- 23" M275 (88mm reach) | Tektro HD-276 hydraulic disc brakes with 83mm reach, 160mm rotors and Tektro brake levers. | Tektro HD-M275/276 hydraulic disc brakes with 160mm rotors and Tektro brake levers. 15" M276 (83mm reach); 17- 23" M275 (88mm reach) | Tektro HD-276 hydraulic disc brakes with 83mm reach, 160mm rotors and Tektro brake levers. | Tektro MD-280 cable-actuated disc brakes with 160mm stainless 6-bolt rotors and Shimano EF41 levers | Tektro MD-280 cable-actuated disc brakes with 160mm stainless 6-bolt rotors and Shimano EF41 levers |
| Handlebar | Jamis Riser bar, 6061 double-butted aluminum, 31.8 x 20mm rise x 10 ̊ sweep x 640mm (15"), 660mm (17-23") | Jamis Riser bar, 6061 double-butted aluminum, 31.8 x 20mm rise x 10 ̊ sweep x 640mm (14-18"), 660mm (20") | Jamis Riser bar, double-butted aluminum, 25.4 x 10 ̊ sweep x 20mm rise x 640mm (15"), 660mm (17-23") | Jamis Riser bar, double-butted aluminum, 25.4 x 10 ̊ sweep x 20mm rise x 640mm (14-18"), 660mm (20") | Jamis Riser bar, double-butted aluminum, 25.4 x 10 ̊ sweep x 20mm rise x 640mm (15"), 660mm (17-23") | Jamis Riser bar, double-butted aluminum, 25.4 x 10 ̊ sweep x 20mm rise x 640mm (14-18"), 660mm (20") |
| Stem | Jamis Trekking, 3D forged alloy, 10 ̊ rise, 90mm (15-17"), 105mm (19/21/23") | Jamis Trekking, 3D forged alloy, 10 ̊ rise, 90mm | Jamis Trekking, 3D forged alloy, 15 ̊ rise, Length-60mm (15- 17"), 90mm (19-23") | Jamis Trekking, 3D forged alloy, 15 ̊ rise, Length-60mm | Jamis Trekking, 3D forged alloy, 15 ̊ rise, Length-60mm (15- 17"), 90mm (19-23") | Jamis Trekking, 3D forged alloy, 15 ̊ rise, Length-60mm |
| Grips | Anatomic double density kraton grip with gel | Anatomic double density kraton grip with gel | ERGO Type Grip | ERGO Type Grip | ERGO Type Grip | ERGO Type Grip |
| Seat Post | Jamis alloy micro-adjust, 31.6 x 350mm alloy clamp with QR seatpin | Jamis alloy micro-adjust, 31.6 x 350mm alloy clamp with QR seatpin | Jamis alloy micro-adjust, 31.6 x 350mm alloy clamp with QR seatpin | Jamis alloy micro-adjust, 31.6 x 350mm alloy clamp with QR seatpin | Jamis alloy micro-adjust, 31.6 x 350mm alloy clamp with QR seatpin | Jamis alloy micro-adjust, 31.6 x 350mm alloy clamp with QR seatpin |
| Saddle | Selle Royal Vivo ERGO | Selle Royal Vivo ERGO Women's | NEW Jamis Touring with SL cover | NEW Jamis Touring Women's with SL cover | NEW Jamis Touring with SL cover | NEW Jamis Touring Women's with SL cover |
| Sizes | 15", 17", 19", 21", 23" | 14", 18", 20" | 15", 17", 19", 21", 23" | 14", 18", 20" | 15", 17", 19", 21", 23" | 14", 18", 20" |
| Color | Ano Nickel | Ano Deep Blue | Gloss Black | Ano Frost | Flat Steel | Ano Seafoam |
| Weight | 30.0 lbs | 29.75 lbs | 31.25 lbs | 31.0 lbs | 32.0 lbs | 31.75 lbs |
| MODEL | SIZE | TT EFFECTIVE | HT ANGLE | ST ANGLE | CHAINSTAY | WHEELBASE | FORK RAKE | BB DROP | HEADTUBE | STANDOVER | STACK | REACH |
| --- | --- | --- | --- | --- | --- | --- | --- | --- | --- | --- | --- | --- |
| A1, A2, A3 | 15 | 22.95 / 583 | 70.5° | 73° | 17.32 / 440 | 42.16 / 1071 | 1.57 / 40 | 2.36 / 60 | 5.00 / 127 | 29.45 / 748 | 25.04 / 636 | 15.55 / 395 |
| A1, A2, A3 | 17 | 23.35 / 593 | 70.5° | 73° | 17.32 / 440 | 45.60 / 1082 | 1.57 / 40 | 2.36 / 60 | 5.51 / 140 | 30.87 / 784 | 25.51 / 648 | 15.79 / 401 |
| A1, A2, A3 | 19 | 23.74 / 603 | 70.5° | 73° | 17.52 / 445 | 43.27 / 1099 | 1.57 / 40 | 2.24 / 57 | 6.10 / 155 | 31.93 / 811 | 25.98 / 660 | 16.02 / 407 |
| A1, A2, A3 | 21 | 24.09 / 612 | 70.5° | 73° | 17.52 / 445 | 43.62 / 1108 | 1.57 / 40 | 2.24 / 57 | 6.57 / 167 | 33.38 / 848 | 26.42 / 671 | 16.26 / 413 |
| A1, A2, A3 | 23 | 24.49 / 622 | 70.5° | 73° | 17.72 / 450 | 44.21 / 1123 | 1.57 / 40 | 2.24 / 57 | 7.05 / 179 | 34.76 / 883 | 25.85 / 682 | 16.50 / 419 |
| A1, A2, A3 S/O | 14 | 21.93 / 557 | 70° | 73.5° | 17.32 / 440 | 41.61 / 1057 | 1.57 / 40 | 2.36 / 60 | 4.92 / 125 | 25.24 / 641 | 24.88 / 632 | 14.80 / 376 |
| A1, A2, A3 S/O | 18 | 21.93 / 557 | 70.5° | 74 ° | 17.32 / 440 | 41.61 / 1057 | 1.57 / 40 | 2.36 / 60 | 5.16 / 131 | 26.14 / 664 | 25.20 / 640 | 14.96 / 380 |
| A1, A2, A3 S/O | 20 | 22.44 / 570 | 71.5° | 73.5° | 17.32 / 440 | 41.46 / 1053 | 1.57 / 40 | 2.36 / 60 | 5.31 / 135 | 26.06 / 662 | 25.51 / 648 | 15.12 / 384 |