STEEL CITY & FITNESS BIKES
Manufacturer's Suggested Retail Price excludes shipping costs, dealer assembly/prep, taxes or import duties.
OWNING CITY STREETS FOR 30 YEARS
Our Codas have been some of our most popular bikes for decades, and for good reason. There's the smooth-riding Reynolds chromoly frames, the well-thought-out geometry, the heads-up riding position and the smart component selections, from the super-wide gearing range to the easy-adjust stems: these bikes are simply some of the best and most versatile around.
THE BUTTERY RIDE OF QUALITY STEEL
We're famous for our steel bikes and the Codas have a lot to do with that. No frame material makes more sense on beat-up city streets than steel. Why? Hit a baseball with a wooden bat and then hit one with an aluminum bat and you'll know why. You want your frame material to soak up those streets, not beat you with them. And we use only the best: Reynolds cold-worked, double-butted chrome-moly steel.
Specifications are subject to change without notice. All bike and frame weights are based off pre-production painted frames. Weights may vary in final production.
| CODA | S1 | S1 Women | S2 | S2 Women | S3 | S3 S/O |
| --- | --- | --- | --- | --- | --- | --- |
| Frame | Size Specific Design Reynolds 520 double-butted chromoly main tubes, 48mm extended head tube with reinforced collars, double tapered cromo stays with flat mount disc brake, kickstand mount, forged dropouts and fender/rack eyelets | Size Specific Design Reynolds 520 double-butted chromoly main tubes, 48mm extended head tube with reinforced collars, double tapered cromo stays with flat mount disc brake, kickstand mount, forged dropouts and fender/rack eyelets | Size Specific Design Double-butted chromoly frame, 48mm extended head tube with reinforced collars, double tapered cromo stays, kickstand mount, forged dropouts and fender/ rack eyelets | Size Specific Design Double-butted chromoly frame, 48mm extended head tube with reinforced collars, double tapered cromo stays, kickstand mount, forged dropouts and fender/ rack eyelets | Size Specific Design Double-butted chromoly frame, 48mm extended head tube with reinforced collars, double tapered chromoly stays, kickstand mount, forged dropouts and fender/rack eyelets | Size Specific Design Double-butted chromoly frame, 48mm extended head tube with reinforced collars, double tapered cromo stays, kickstand mount, forged dropouts and fender/ rack eyelets |
| Fork | Jamis full carbon composite with carbon steerer, Flat mount disc brake, low-rider carrier mounts and carbon drop out with stainless steel tabs and fender eyelets | Jamis full carbon composite with carbon steerer, Flat mount disc brake, low-rider carrier mounts and carbon drop out with stainless steel tabs and fender eyelets | Chromoly tapered straight blade unicrown with bulge butted steerer and 50mmm crown, low-rider carry mounts and forged dropouts with 2 fender eyelets | Chromoly tapered straight blade unicrown with bulge butted steerer and 50mmm crown, low-rider carry mounts and forged dropouts with 2 fender eyelets | Steel tapered straight blade unicrown with bulge butted steerer and 50mmm crown, low-rider carry mounts and forged dropouts with 2 fender eyelets | Steel tapered straight blade unicrown with bulge butted steerer and 50mmm crown, low-rider carry mounts and forged dropouts with 2 fender eyelets |
| Headset | Threadless internal, 1 1/8" | Threadless, 1 1/8" | Threadless internal, 1 1/8" | Threadless, 1 1/8" | Threaded internal, 1 1/8" | Threaded internal, 1 1/8" |
| Wheels | Alex TD-26 double wall disc specific alloy rims, 32H, Joytec hubs with QR and 14g black stainless steel spokes | Alex TD-26 double wall disc specific alloy rims, 32H, Joytec hubs with QR and 14g black stainless steel spokes | Alex ID-19 double wall alloy rims with GSW sidewall, 32H, alloy hubs with QR and 14g black stainless steel spokes | Alex ID-19 double wall alloy rims with GSW sidewall, 32H, Formula alloy hubs with QR and 14g black stainless steel spokes | Double wall alloy rims, 32H, alloy hubs with QR and 14g black electroplated spokes | Double wall alloy rims, 32H, alloy hubs with QR and 14g black electroplated spokes |
| Tires | Vittoria Randonneur with reflective sidewalls, 700 x 40c | Vittoria Randonneur with reflective sidewalls, 700 x 40c | Vittoria Randonneur with reflective sidewalls, 700 x 40c | Vittoria Randonneur with reflective sidewalls, 700 x 40c | Kenda Eurotrek K-197, 700 x 40c | Kenda Eurotrek K-197, 700 x 40c |
| Derailleurs | Shimano Altus RD-M2000 rear and Shimano Altus FD- M370 front derailleur | Shimano Altus RD-M2000 rear and Shimano Altus FD- M370 front derailleur | Shimano Acera M360 SGS rear and FD-TY710 bottom pull front | Shimano Acera M360 SGS rear and FD-TY710 bottom pull front | Shimano Tourney TY300 rear and TY510 front | Shimano Tourney TY300 rear and TY510 front |
| Shift levers | Shimano Rapidfire Plus Altus SL-M2010, 18-speed | Shimano Rapidfire Plus Altus SL-M2010, 18-speed | Shimano RapidFire Plus SL-M315, 24-speed | Shimano RapidFire Plus SL-M315, 24-speed | Shimano EZ-Fire Plus ST-EF500 shifters, 21-speed | Shimano EZ-Fire Plus ST-EF500 shifters, 21-speed |
| Chain | KMC Z8 | KMC Z8 | KMC Z8 | KMC Z8 | KMC Z51 | KMC Z51 |
| Cassette | Shimano HG200 9-speed, 11-34T | Shimano HG200 9-speed, 11-34T | Shimano HG41 8-speed, 11-32T | Shimano HG41 8-speed, 11-32T | Shimano HG200 7-speed, 12-32T | Shimano HG200 7-speed, 12-32T |
| Crankset | Shimano FC-MT210, 46/30, 170mm (15-19"), 175mm (21-23") | Shimano FC-MT210, 46/30, 170mm (14-18") | Shimano FC-TY501, 48/38/28T, 170mm (15-19") 175mm (21-23") | Shimano FC-TY501, 48/38/28T, 170mm (14-18") | Forged alloy, 48/38/28T, 170mm with chain guard | Forged alloy, 48/38/28T, 170mm with chain guard |
| BB Set | FSA sealed cartridge, 68 x 110.5mm | FSA sealed cartridge, 68 x 110.5mm | Sealed cartridge, 68 x 110.5mm | Sealed cartridge, 68 x 110.5mm | VP sealed cartridge, 68 x 122.5mm | VP sealed cartridge, 68 x 122.5mm |
| Pedals | Full alloy platform, toe clip attachable | Full alloy platform, toe clip attachable | Platform style, steel cage/resin body | Platform style, steel cage/resin body | Platform style, steel cage/resin body, toe clip attachable | Platform style, steel cage/resin body, toe clip attachable |
| Brakeset | Tektro HD-M280/281 hydraulic Flat Mount disc brakes with 160mm rotors and Tektro brake levers. 15-17" M281 (83mm reach); 19-23" M280 (88mm reach) | Tektro HD-281 hydraulic disc brakes with 83mm reach, 160mm rotors and Tektro brake levers. | Tektro 855AL alloy linear-pull brakes with front power modulator and Tektro brake levers | Tektro alloy linear-pull brakes with front power modulator and Tektro brake levers | Promax TX-121 alloy linear-pull brakes with front power modulator and Shimano brake levers | Promax TX-121 alloy linear-pull brakes with front power modulator and Shimano brake levers |
| Handlebar | Jamis Flat bar, 6061 T-6 aluminum, 25.4 x 10 ̊ sweep x 600mm (15-17") 620mm (19-23") | Jamis Flat bar, 6061 T-6 aluminum, 25.4 x 10 ̊ sweep x 600mm | Jamis Flat bar, 6061 T-6 aluminum, 25.4 x 10 ̊ sweep x 600mm (15-17") 620mm (19-23") | Jamis Flat bar, 6061 T-6 aluminum, 25.4 x 10 ̊ sweep x 600mm | Jamis Riser bar, aluminum, 25.4 x 10 ̊ sweep x 40mm rise x 600mm (15-17") 620mm (19-23") | Jamis Riser bar, aluminum 25.4 x 10 ̊ sweep x 40mm rise x 600mm |
| Stem | Jamis Road 3D forged alloy, 25.4 x 17 ̊ x 90mm (15-17"), 110mm (19-23") | Jamis Road 3D forged alloy, 25.4 x 17 ̊ x 90mm (14-18") | Jamis Road, 3D forged 6061 alloy, 25.4 x 17 ̊ x 75mm (15/17"), 105mm (19/21/23") | Jamis Road, 3D forged 6061 alloy, 25.4 x 17 ̊ x 75mm (14-18") | Jamis alloy hi-rise, quill type, 25.4 x 80mm extension x 35 ̊ x 150mm (15/17"), 180mm (19/21/23") | Jamis alloy hi-rise, quill type, 25.4 x 80mm extension x 35 ̊ x 150mm (14-15"), 180mm (18") |
| Grips | New Anatomic double density kraton grip with end plug | Anatomic double density kraton | Anatomic double density kraton | Anatomic double density kraton | Anatomic double density kraton | Anatomic double density kraton |
| Seat Post | Jamis alloy micro-adjust, 27.2 x 350mm alloy clamp with seatpin | Jamis alloy micro-adjust, 27.2 x 350mm alloy clamp with QR seatpin | Jamis alloy micro-adjust, 27.2 x 350mm alloy clamp with QR seatpin | Jamis alloy micro-adjust, 27.2 x 350mm alloy clamp with QR seatpin | Jamis alloy micro-adjust, 27.2 x 350mm alloy clamp | Jamis alloy micro-adjust, 27.2 x 350mm alloy clamp |
| Saddle | Selle Royal Vivo ERGO | Selle Royal Vivo ERGO Women's | NEW Jamis Touring with SL cover | NEW Jamis Touring Women's with SL top | NEW Jamis Touring with SL cover | NEW Jamis Touring Women's with SL cover |
| Sizes | 15", 17", 19", 21", 23" | 14", 16", 18" | 15", 17", 19", 21", 23" | 14", 16", 18" | 15", 17", 19", 21", 23" | 14", 16", 18" |
| Color | Smoke | Powder Blue | Blue Smoke or Charcoal | Ano Black or Ano Nickel | Kinetic Grey or Flat Ink | Ano Deep Blue or Charcoal |
| Weight | 26.5 lbs | 26.25 lbs | 27 lbs | 26.75 lbs | 27.25 lbs | 27.0 lbs |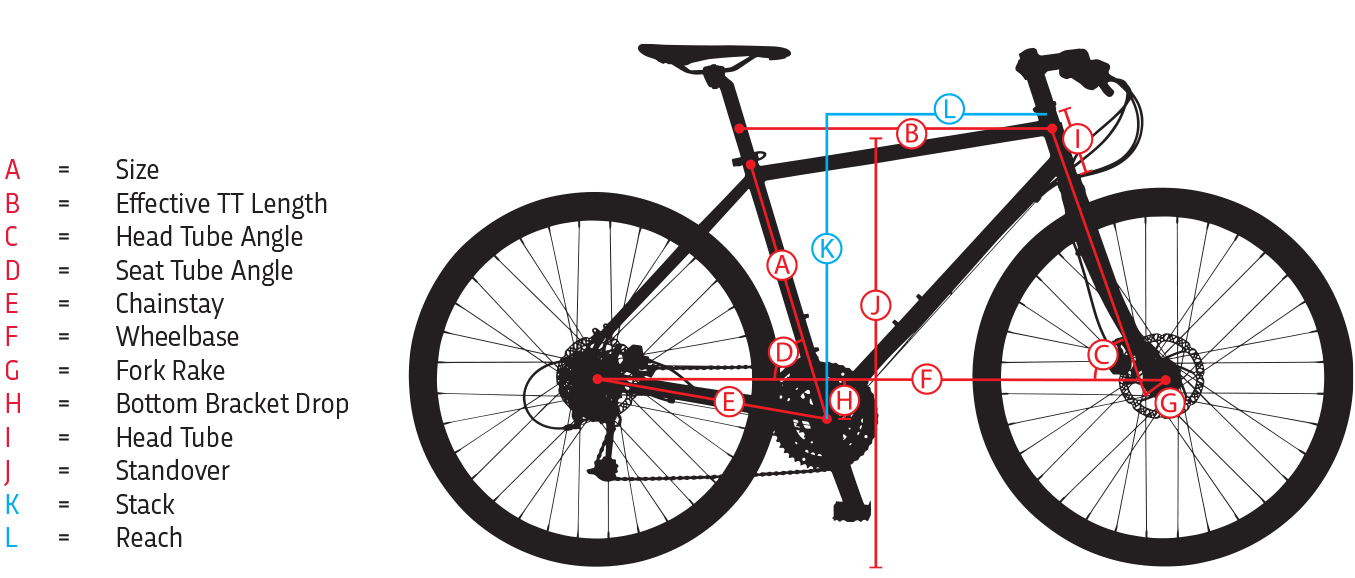 | MODEL | SIZE | TT EFFECTIVE | HT ANGLE | ST ANGLE | CHAINSTAY | WHEELBASE | FORK RAKE | BB DROP | HEADTUBE | STANDOVER | STACK | REACH |
| --- | --- | --- | --- | --- | --- | --- | --- | --- | --- | --- | --- | --- |
| S1 | 15 | 21.81 / 554 | 72° | 73° | 17.13 / 435 | 40.43 / 1027 | 1.97 / 50 | 2.26 / 57.5 | 4.64 / 118 | 28.74 / 730 | 21.46 / 545 | 15.24 / 387 |
| S1 | 17 | 22.28 / 566 | 72° | 73° | 17.13 / 435 | 40.94 / 1040 | 1.97 / 50 | 2.26 / 57.5 | 5.63 / 143 | 30.00 / 762 | 22.40 / 569 | 15.43 / 392 |
| S1 | 19 | 22.72 / 577 | 72° | 73° | 17.13 / 435 | 41.46 / 1053 | 1.97 / 50 | 2.16 / 55 | 6.65 / 169 | 31.57 / 802 | 23.31 / 592 | 15.59 / 396 |
| S1 | 21 | 23.19 / 589 | 73° | 73° | 17.32 / 440 | 41.69 / 1059 | 1.97 / 50 | 2.16 / 55 | 7.52 / 191 | 33.07 / 840 | 24.25 / 616 | 15.79 / 401 |
| S1 | 23 | 23.66 / 601 | 73° | 73° | 17.32 / 440 | 42.24 / 1073 | 1.97 / 50 | 2.16 / 55 | 8.46 / 215 | 34.29 / 871 | 25.16 / 639 | 15.98 / 406 |
| S1 W | 14 | 21.02 / 534 | 71° | 73° | 17.13 / 435 | 39.80 / 1011 | 1.97 / 50 | 2.26 / 57.5 | 4.29 / 109 | 27.75 / 705 | 20.98 / 533 | 14.61 / 371 |
| S1 W | 16 | 21.30 / 541 | 71° | 73° | 17.13 / 435 | 40.31 / 1024 | 1.97 / 50 | 2.26 / 57.5 | 4.84 / 123 | 28.74 / 730 | 21.50 / 546 | 14.72 / 374 |
| S1 W | 18 | 21.61 / 549 | 71° | 73° | 17.13 / 435 | 40.67 / 1033 | 1.97 / 50 | 2.26 / 57.5 | 5.35 / 136 | 29.80 / 757 | 22.01 / 559 | 14.88 / 378 |
| S2 | 15 | 21.81 / 554 | 72° | 73° | 17.13 / 435 | 40.55 / 1030 | 1.97 / 50 | 2.26 / 57.5 | 4.25 / 108 | 28.90 / 734 | 21.46 / 545 | 15.23 / 387 |
| S2 | 17 | 22.28 / 566 | 72° | 73° | 17.13 / 435 | 41.02 / 1042 | 1.97 / 50 | 2.26 / 57.5 | 5.24 / 133 | 30.00 / 762 | 22.40 / 569 | 15.43 / 392 |
| S2 | 19 | 22.72 / 577 | 72° | 73° | 17.13 / 435 | 41.53 / 1055 | 1.97 / 50 | 2.16 / 55 | 6.30 / 160 | 31.69 / 805 | 23.27 / 591 | 15.59 / 396 |
| S2 | 21 | 23.19 / 589 | 73° | 73° | 17.32 / 440 | 41.77 / 1061 | 1.97 / 50 | 2.16 / 55 | 7.13 / 181 | 33.27 / 845 | 24.25 / 616 | 15.79 / 401 |
| S2 | 23 | 23.66 / 601 | 73° | 73° | 17.32 / 440 | 42.24 / 1073 | 1.97 / 50 | 2.16 / 55 | 8.07 / 205 | 34.29 / 871 | 25.16 / 639 | 15.98 / 406 |
| S2 W | 14 | 21.02 / 534 | 71° | 73° | 17.13 / 435 | 40.08 / 1018 | 1.97 / 50 | 2.26 / 57.5 | 3.90 / 99 | 27.75 / 705 | 20.98 / 533 | 14.61 / 371 |
| S2 W | 16 | 21.30 / 541 | 71° | 73° | 17.13 / 435 | 40.39 / 1026 | 1.97 / 50 | 2.26 / 57.5 | 4.45 / 113 | 28.74 / 730 | 21.50 / 546 | 14.72 / 374 |
| S2 W | 18 | 21.61 / 549 | 71° | 73° | 17.13 / 435 | 40.75 / 1035 | 1.97 / 50 | 2.26 / 57.5 | 4.96 / 126 | 29.80 / 757 | 22.01 / 559 | 14.88 / 378 |
| S3 | 15 | 22.24 / 565 | 72° | 73° | 16.93 / 430 | 40.83 / 1037 | 1.97 / 50 | 2.26 / 57.5 | 5.24 / 113 | 28.74 / 730 | 21.46 / 545 | 15.31 / 389 |
| S3 | 17 | 22.44 / 570 | 72° | 73° | 17.13 / 435 | 41.18 / 1046 | 1.97 / 50 | 2.26 / 57.5 | 5.43 / 138 | 29.96 / 761 | 22.40 / 569 | 15.59 / 396 |
| S3 | 19 | 23.19 / 589 | 72° | 73° | 17.13 / 435 | 42.01 / 1067 | 1.97 / 50 | 2.16 / 55 | 6.50 / 165 | 31.57 / 802 | 23.31 / 592 | 16.06 / 408 |
| S3 | 21 | 23.46 / 596 | 73° | 73° | 17.32 / 440 | 42.05 / 1068 | 1.97 / 50 | 2.16 / 55 | 7.32 / 186 | 33.03 / 839 | 24.25 / 616 | 16.06 / 408 |
| S3 | 23 | 23.66 / 601 | 73° | 73° | 17.32 / 440 | 42.24 / 1073 | 1.97 / 50 | 2.16 / 55 | 8.27 / 210 | 34.25 / 870 | 25.16 / 639 | 15.98 / 406 |
| S3 W | 14 | 22.20 / 564 | 71° | 73° | 16.93 / 430 | 40.94 / 1040 | 1.97 / 50 | 2.26 / 57.5 | 4.09 / 104 | 24.49 / 622 | 20.98 / 533 | 15.63 / 397 |
| S3 W | 16 | 22.52 / 572 | 71° | 73° | 16.93 / 430 | 41.42 / 1052 | 1.97 / 50 | 2.26 / 57.5 | 4.64 / 118 | 25.08 / 637 | 21.50 / 546 | 15.94 / 405 |
| S3 W | 18 | 22.95 / 583 | 71° | 73° | 17.13 / 435 | 42.09 / 1069 | 1.97 / 50 | 2.26 / 57.5 | 5.16 / 131 | 25.24 / 641 | 22.01 / 559 | 14.88 / 378 |