Manufacturer's Suggested Retail Price excludes shipping costs, dealer assembly/prep, taxes or import duties.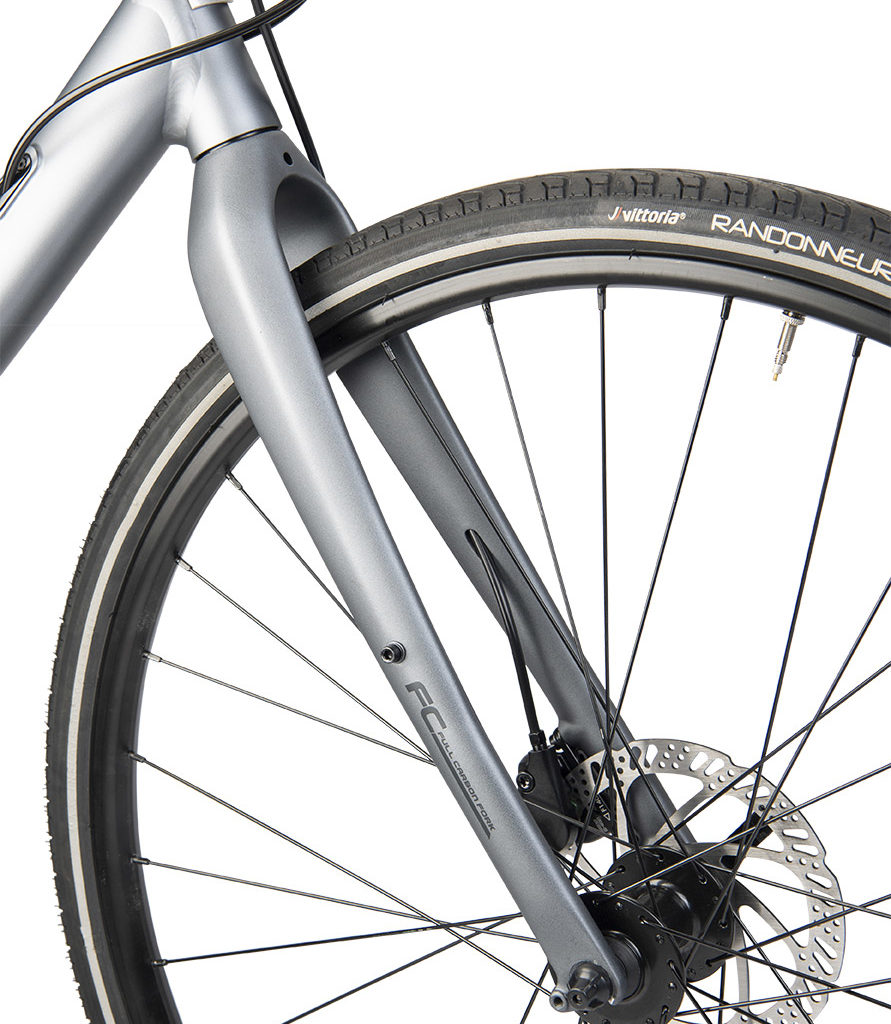 Musically speaking, Allegro means quick and lively. Which exactly characterizes the spirit of our Allegros: fitness bikes that are lively, quick and seriously fun to ride. Our Allegros blend the speed and efficiency of a road bike with the heads up riding position many people prefer.
LIGHTWEIGHT & PRECISION FEEL
When it comes to fitness training and peak performance, nothing is more detrimental to flying fast than carrying more weight than you need to. Which is why every Allegro is built with lightweight triple butted 6061 aluminum tubing. In fact, our aluminum Allegro frames shed 14 ounces over their steel Coda counterparts. We design comfort into the naturally stiffer ride by specifying large volume 32c tires, using similar geometry as our Codas and then adding a few millimeters to the wheelbase length for just a tad more compliance.
Specifications are subject to change without notice. All bike and frame weights are based off pre-production painted frames. Weights may vary in final production.
| ALLEGRO | A1 | A1 Women | A2 | A2 Women | A3 | A3 S/O |
| --- | --- | --- | --- | --- | --- | --- |
| Frame | Size Specific Design Triple-butted 6061 aluminum with fast back rear triangle, internal cable routing, formed top and down tube, oval chain stays with flat mount disc brake, kickstand mount, replaceable derailleur hanger and fender/ rack eyelets | Size Specific Design Triple-butted 6061 aluminum with fast back rear triangle, internal cable routing, formed top and down tube, oval chain stays with flat mount disc brake, kickstand mount, replaceable derailleur hanger and fender/ rack eyelets | Size Specific Design 6061 aluminum with fast back rear triangle, flat mount disc brake mounts, internal cable routing, hydro-formed top and down tube, taper gauge "S" bend stays, kickstand mount, replaceable derailleur hanger and fender/rack eyelets | Size Specific Design 6061 aluminum with fast back rear triangle, flat mount disc brake mounts, internal cable routing, hydro-formed top and down tube, taper gauge "S" bend stays, kickstand mount, replaceable derailleur hanger and fender/rack eyelets | Size Specific Design 6061 aluminum with fast back rear triangle, internal cable routing, hydro-formed top and down tube, taper gauge "S" bend stays, kickstand mount, replaceable derailleur hanger and fender/rack eyelets | Size Specific Design 6061 aluminum with fast back rear triangle, internal cable routing, hydro-formed top and down tube, taper gauge "S" bend stays, kickstand mount, replaceable derailleur hanger and fender/rack eyelets |
| Fork | Jamis full carbon composite with carbon steerer, Flat mount disc brake, low-rider carrier mounts and carbon drop out with stainless steel tabs and fender eyelets | Jamis full carbon composite with carbon steerer, Flat mount disc brake, low-rider carrier mounts and carbon drop out with stainless steel tabs and fender eyelets | Hi-Ten straight blade unicrown with flat mount disc brake mounts, low-rider carrier mounts, forged dropouts and 2 fender eyelets | Hi-Ten straight blade unicrown with flat mount disc brake mounts, low-rider carrier mounts, forged dropouts and 2 fender eyelets | Hi-Ten tapered straight blade unicrown with bulge butted steerer, low-rider carry mounts and forged dropouts with 2 fender eyelets | Hi-Ten tapered straight blade unicrown with bulge butted steerer, low-rider carry mounts and forged dropouts with 2 fender eyelets |
| Headset | FSA Integrated IS threadless with nylon upper compression ring, 1 1/8" | FSA Integrated IS threadless with nylon upper compression ring, 1 1/8" | VP Integrated threadless, 1 1/8" | VP Integrated threadless, 1 1/8" | Internal cup, threaded, 1 1/8" | Internal cup threaded, 1 1/8" |
| Wheels | Alex TD26 double wall disc specific alloy rims, 32H, Joytec 6-bolt alloy hubs with QR and 14g stainless steel spokes | Alex TD26 double wall disc specific alloy rims, 32H, Joytec 6-bolt alloy hubs with QR and 14g stainless steel spokes | Alex TD26 alloy double wall rims, 36H, Modus disc alloy hubs w/QR & 14g black electroplated spokes | Alex TD26 alloy double wall rims, 36H, Modus disc alloy hubs w/QR & 14g black electroplated spokes | Double wall alloy rims, 32H, alloy hubs with QR and 14g black electroplated spokes | Double wall alloy rims, 32H, alloy hubs with QR and 14g black electroplated spokes |
| Tires | Vittoria Randonneur with reflective sidewalls, 700 x 35c | Vittoria Randonneur with reflective sidewalls, 700 x 35c | Kenda Kwick Tendril with anti-puncture protection and reflective sidewalls, 700 x 35c | Kenda Kwick Tendril with anti-puncture protection and reflective sidewalls, 700 x 35c | Kenda Eurotrek K-197, 700 x 35c | Kenda Eurotrek K-197, 700 x 35c |
| Derailleurs | Shimano Altus RD-M2000 rear and Shimano Altus FD- M370 front derailleur | Shimano Altus RD-M2000 rear and Shimano Altus FD- M370 front derailleur | Shimano Acera RD-M360 rear and Shimano FD-TY710-2 front | Shimano Acera RD-M360 rear and Shimano FD-TY710-2 front | Shimano RD-TY300 rear and Shimano FD-TY510 top swing front | Shimano RD-TY300 rear and Shimano FD-TY510 top swing front |
| Shift levers | Shimano Rapidfire Plus Altus SL-M2010, 18-speed | Shimano Rapidfire Plus Altus SL-M2010, 18-speed | Shimano Rapidfire SL-M315, 16-speed | Shimano Rapidfire SL-M315, 16-speed | Shimano EZ-Fire Plus ST-EF500 shifters, 21-speed | Shimano EZ-Fire Plus ST-EF500 shifters, 21-speed |
| Chain | KMC Z9 | KMC Z9 | KMC Z8 | KMC Z8 | KMC Z51 | KMC Z51 |
| Cassette | Shimano HG200 9-speed, 11-34T | Shimano HG200 9-speed, 11-34T | Shimano HG31 8-speed, 11-34T | Shimano HG31 8-speed, 11-34T | Shimano CS-HG200, 7-speed 12-32T | Shimano CS-HG200, 7-speed 12-32T |
| Crankset | Shimano FC-MT210, 46/30, 170mm (15-19"), 175mm (21-23"). | Shimano FC-MT210, 46/30, 170mm (14-18") | Shimano FC-TY501-2, 46/30, 170mm (15-17"), 175mm (19-23") | Shimano FC-TY501-2, 46/30, 170mm (14-18") | Forged alloy, 48/38/28T, 170mm with chain guard | Forged alloy, 48/38/28T, 170mm with chain guard |
| BB Set | FSA sealed cartridge, 68 x 110.5mm | FSA sealed cartridge, 68 x 110.5mm | VP sealed cartridge, 68 x 122.5mm | VP sealed cartridge, 68 x 122.5mm | VP sealed cartridge, 68 x 122.5mm | VP sealed cartridge, 68 x 122.5mm |
| Pedals | Platform style, steel cage/resin body | Platform style, steel cage/resin body | Platform style, steel cage/resin body | Platform style, steel cage/resin body | Platform style, steel cage/resin body | Platform style, steel cage/resin body |
| Brakeset | Tektro HD-M280/281 hydraulic Flat Mount disc brakes with 160mm rotors and Tektro brake levers. 15-17" M281 (83mm reach); 19-23" M280 (88mm reach) | Tektro HD-280 hydraulic Flat Mount disc brakes with 83mm reach, 160mm rotors and Tektro brake levers. | Tektro HD-M280/281 hydraulic Flat Mount disc brakes with 160mm rotors and Tektro brake levers. 15-17" M281 (83mm reach); 19-23" M280 (88mm reach) | Tektro HD-280 hydraulic Flat Mount disc brakes with 83mm reach, 160mm rotors and Tektro brake levers. | Promax TX-121 linear-pull with front power modulator and Shimano levers | Promax TX-121 linear-pull with front power modulator and Shimano levers |
| Handlebar | Jamis Flat bar, 6061 T-6 aluminum, 31.8 x 10 ̊ sweep x 600mm (15-17") 620mm (19-23") | Jamis Flat bar, 6061 T-6 aluminum, 31.8 x 10 ̊ sweep x 600mm | Jamis Flat bar, 6061 T-6 aluminum, 31.8 x 10 ̊ sweep x 600mm (15- 17") 620mm (19-23") | Jamis Flat bar, 6061 T-6 aluminum, 31.8 x 10 ̊ sweep x 600mm | Jamis Riser bar, aluminum, 25.4 x 10 ̊ sweep x 40mm rise x 600mm (15-17") 620mm (19-23") | Jamis Riser bar, aluminum, 25.4 x 10 ̊ sweep x 40mm rise x 600mm |
| Stem | Jamis Road 3D forged alloy, 10 ̊ rise x 90mm (15/17"), 105mm (19/21"), 115mm (23") | Jamis Road 3D forged alloy, 10 ̊ rise x 90mm (14-18") | Jamis Road 3D forged alloy, 10 ̊ rise x 90mm (15-17"), 110mm (19-23") | Jamis Road 3D forged alloy, 10 ̊ rise x 90mm (14-18") | Jamis alloy hi-rise, quill type, 35 ̊ rise, 80mm extension, 150mm (15"), 180mm (17-23") | Jamis alloy hi-rise, quill type, 35 ̊ rise, 80mm extension, 180mm high, 150mm (14-16"), 180mm (18") |
| Grips | Anatomic double density kraton | Anatomic double density kraton | Anatomic double density kraton | Anatomic double density kraton grip | Anatomic double density kraton | Anatomic double density kraton |
| Seat Post | Jamis alloy micro-adjust, 27.2 x 350mm alloy clamp with QR seatpin | Jamis alloy micro-adjust, 27.2 x 350mm alloy clamp with QR seatpin | Jamis alloy micro-adjust, 27.2 x 350mm, alloy clamp with QR seatpin | Jamis alloy micro-adjust, 27.2 x 350mm, alloy clamp with QR seatpin | Jamis alloy micro-adjust, 27.2 x 350mm, alloy clamp with QR seatpin | Jamis alloy micro-adjust, 27.2 x 350mm, alloy clamp with QR seatpin |
| Saddle | NEW Jamis Touring with SL cover | NEW Jamis Touring Women's with SL cover | NEW Jamis Touring with SL cover | NEW Jamis Touring Women's with SL cover | NEW Jamis Touring with SL cover | NEW Jamis Touring Women's with SL cover |
| Sizes | 15", 17", 19", 21", 23" | 14", 16", 18" | 15", 17", 19", 21", 23" | 14", 16", 18" | 15", 17", 19", 21", 23" | 14", 16", 18" |
| Color | Ano Plaladium | Charcoal | Smoke or Charcoal | Slate | Ano Nickel or Flat Ink | Ano Nickel or Robins Egg |
| Weight | 25.75 lbs | 25.25 lbs | 27.0 lbs | 26.75 lb | 27.25lbs | 27.0 lbs |
| MODEL | SIZE | TT EFFECTIVE | HT ANGLE | ST ANGLE | CHAINSTAY | WHEELBASE | FORK RAKE | BB DROP | HEADTUBE | STANDOVER | STACK | REACH |
| --- | --- | --- | --- | --- | --- | --- | --- | --- | --- | --- | --- | --- |
| A1 | 15 | 21.81 / 554 | 72° | 73° | 17.13 / 435 | 40.43 / 1027 | 1.89 / 48 | 2.26 / 57.5 | 4.72 / 120 | 28.90 / 734 | 21.50 / 546 | 15.20 / 386 |
| A1 | 17 | 22.28 / 566 | 72° | 73° | 17.13 / 435 | 40.90 / 1039 | 1.89 / 48 | 2.26 / 57.5 | 5.71 / 145 | 30.16 / 766 | 22.44 / 570 | 15.39 / 391 |
| A1 | 19 | 22.72 / 577 | 72° | 73° | 17.13 / 435 | 41.42 / 1052 | 1.89 / 48 | 2.16 / 55 | 6.93 / 170 | 31.65 / 804 | 23.27 / 591 | 15.59 / 396 |
| A1 | 21 | 23.19 / 589 | 73° | 73° | 17.32 / 440 | 41.69 / 1059 | 1.89 / 48 | 2.16 / 55 | 7.48 / 190 | 33.03 / 839 | 24.17 / 614 | 15.79 / 401 |
| A1 | 23 | 23.66 / 601 | 73° | 73° | 17.32 / 440 | 42.16 / 1071 | 1.89 / 48 | 2.16 / 55 | 8.46 / 215 | 34.33 / 872 | 25.12 / 638 | 25.40 / 406 |
| A1 W | 14 | 21.02 / 534 | 71° | 73° | 17.13 / 435 | 40.00 / 1015.7 | 1.89 / 48 | 2.26 / 57.5 | 4.33 / 110 | 27.83 / 707 | 20.98 / 533 | 14.57 / 370 |
| A1 W | 16 | 21.34 / 542 | 71° | 73° | 17.13 / 435 | 40.16 / 1019.5 | 1.89 / 48 | 2.26 / 57.5 | 4.92 / 125 | 28.82 / 732 | 21.53 / 547 | 14.72 / 374 |
| A1 W | 18 | 21.61 / 549 | 71° | 73° | 17.13 / 435 | 40.63 / 1032 | 1.89 / 48 | 2.26 / 57.5 | 5.31 / 135 | 29.80 / 757 | 21.93 / 557 | 14.88 / 378 |
| A2, A3 | 15 | 22.40 / 569 | 72° | 73° | 17.32 / 440 | 41.26 / 1048 | 1.89 / 48 | 2.26 / 57.5 | 4.76 / 121 | 28.58 / 726 | 21.46 / 545 | 15.83 / 402 |
| A2, A3 | 17 | 22.44 / 570 | 72° | 73° | 17.32 / 440 | 41.26 / 1048 | 1.89 / 48 | 2.26 / 57.5 | 5.79 / 147 | 29.80 / 757 | 22.40 / 569 | 15.43 / 392 |
| A2, A3 | 19 | 22.72 / 577 | 72° | 73° | 17.52 / 445 | 41.85 / 1063 | 1.89 / 48 | 2.16 / 55 | 6.81 / 173 | 31.42 / 798 | 23.31 / 592 | 15.59 / 396 |
| A2, A3 | 21 | 23.19 / 589 | 73° | 73° | 17.52 / 445 | 41.89 / 1064 | 1.89 / 48 | 2.16 / 55 | 7.68 / 195 | 32.91 / 836 | 24.25 / 616 | 15.79 / 401 |
| A2, A3 | 23 | 23.66 / 601 | 73° | 73° | 17.52 / 445 | 42.36 / 1076 | 1.89 / 48 | 2.16 / 55 | 8.62 / 219 | 34.13 / 867 | 25.16 / 639 | 25.40 / 406 |
| A2 W | 14 | 21.02 / 534 | 71° | 73° | 16.93 / 430 | 39.84 / 1012 | 1.89 / 48 | 2.26 / 57.5 | 4.45 / 113 | 27.52 / 699 | 20.98 / 533 | 14.61 / 371 |
| A2 W | 16 | 21.30 / 541 | 71° | 73° | 16.93 / 430 | 40.12 / 1019 | 1.89 / 48 | 2.26 / 57.5 | 4.96 / 126 | 28.58 / 726 | 21.50 / 546 | 14.72 / 374 |
| A2 W | 18 | 21.61 / 549 | 71° | 73° | 17.13 / 435 | 40.67 / 1033 | 1.89 / 48 | 2.26 / 57.5 | 5.51 / 140 | 29.64 / 753 | 22.01 / 559 | 14.88 / 378 |
| A3 S/O | 14 | 22.05 / 560 | 71° | 73° | 17.32 / 440 | 41.26 / 1048 | 1.89 / 48 | 2.26 / 57.5 | 4.45 / 113 | 24.49 / 622 | 20.98 / 533 | 15.63 / 397 |
| A3 S/O | 16 | 22.05 / 560 | 71° | 73° | 17.32 / 440 | 41.26 / 1048 | 1.89 / 48 | 2.26 / 57.5 | 4.96 / 126 | 25.27 / 642 | 21.50 / 546 | 15.47 / 393 |
| A3 S/O | 18 | 22.05 / 560 | 71° | 73° | 17.32 / 440 | 41.26 / 1048 | 1.89 / 48 | 2.26 / 57.5 | 5.51 / 140 | 25.39 / 645 | 22.01 / 559 | 15.31 / 389 |